In Case You Missed 'Em.... The Most Important Stories and Updates From the Week
Guest blogged by DES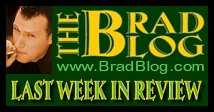 The last week here at BRAD BLOG has been dominated by the concept of Justice: the dispensing of it and the perversion of it.
Tuesday was the Big Day: in the morning, former Cheney Chief of Staff I. Lewis "Scooter" Libby was sentenced to 30 months in prison for perjury in obstructing the investigation of the unprecedented outing of a CIA agent by senior Bush Administration officials. (Be sure to read BRAD BLOG D.C. Correspondent Margie Burns's analysis of the sentencing.) That afternoon, Bradley Schlozman appeared before the Senate Judiciary Committee to explain his many partisan, anti-democratic, anti-voter activities during his many jobs in the Bush Administration's Department of Justice. BRAD BLOG's DoJ source called Schlozman's words "on the razor's edge of perjury." "Schlozzie" may want to revise his testimony...
But the most fun this week came from BRAD BLOG stories you won't get anywhere else (at least until the MSM swipe them without attribution)... Like Bush-Cheney operative Mark "Thor" Hearne, who is miffed that BRAD BLOG has stuck a wrench into his Republican dirty tricks machine, exposing his now-defunct astroturf organization, ACVR, devoted to spreading the Republican Myth of Voter Fraud, and slamming renewed attempts to push through disenfranchising Voter I.D. laws in the State of Missouri --- Hearne's especiales de la casa --- along with exposing other Bush Administration shenanigans intended to muck with your legitimate right to vote...
Other stories you saw here first: L.A. talk radio host Bree Walker stepped up to the plate to take ownership of Cindy Sheehan's Peace House in Crawford, TX... Democratic Congressional Candidate John Russell, on his ongoing battle to get a fair hearing of the evidence in his election challenge... BRAD BLOG's exposure of PFAW's disinformation regarding the Holt bill, HR 811... The questionable editing practices of the KC Star in anti-Bush Administration stories...
It's all here --- the good, the bad, the ugly, and the chipmunk...
SUNDAY, JUNE 3rd...
VIDEO: Shrum Says Gore Won 2000 Presidential Election, Joked Beforehand About Bush Getting Caught Cheating in Florida
Guest Blogged by Alan Breslauer

On The State of Our Democracy: 'Get Over It, Losers!'
Guest blogged by John Russell, 2006 Democratic Candidate for the U.S. House of Representatives in Florida's 5th Congressional District
MONDAY, JUNE 4th...
Fox 'News' Shows Clip of Conyers During Breaking News on Jefferson Indictment
Apparently, 'All Those Congressmen Look Alike' Anyway...

The PFAW/Holt Bill Hoax: What Congress Member Would Vote Against the Banning of Illegal, Invisible Unverified Electronic Ballots?
The Holt Election Reform Propaganda Machine Has Said a Ban on DRE Touch-Screen Voting Machines Couldn't Pass in Congress, But Has Yet to Name a Single Supporter Who Would Vote Against Such a Ban
Looking for a Single Name Here...Anybody?...
TUESDAY, JUNE 5th...
GOP DEBATE VIDEO: How Would Bush Serve Your Administration?

Conyers 'Personally Offended' by 'Lackluster Apology' from Fox 'News'
Says No Personal Apology Made to Him, On-Air Apology Failed to Detail Original Report Mistaking Conyers for Indicted Rep. Jefferson
'Fox Has History of Inappropriate On-Ar Mistakes That Are Neither Fair, Nor Balanced,' Says Senior Congressman...

Bradley Schlozman, GOP/DoJ 'Vote Fraud' Scammer, Chipmunk...
DOJ SOURCE TO BRAD BLOG: Schlozman's Senate Judiciary Testimony 'On the Razor's Edge of Perjury,' Says Tanner Promoted at DoJ to 'Take Hit for Schlozzie' on Photo ID/'Voter Fraud' Cases...
CONFIRMED: No Republican Senators Bothered to Show Up For Hearings

KC Star Hacks Up Another McClatchy 'Voter Fraud' Takedown Story
Once Again Removes References to GOP Gaming of 2000 Voter Rolls, Discredited GOP Claims of Democratic Fraud...
Guest Blogged by Howard Beale of Fired Up! Missouri

'Scooter' Libby Sentenced to 30 Months in CIA Leak Case
Judge Includes $250,000 Fine, 400 Hours Community Service
WEDNESDAY, JUNE 6th...
BREAKING: DoJ to Appeal Dismissed MO Voter Roll Lawsuit, As Our Inside DoJ Source Expands on Comments About Schlozman's 'Razor's Edge of Perjury' Testimony Yesterday
The Loyal Bushies at DoJ 'Wanted to Emasculate' the Voting Rights Act, Says Our Source...

NPR Covers the American Center for Voting Rights (ACVR) 'Voter Fraud' Scam
'Liberal Blogger Brad Friedman' Interviewed in Report on Disappearance of GOP 'Vote Fraud' Fraudsters and Their White House Connections
Nobody from ACVR Agrees to Speak to Them on the Record, But the St. Louis Post-Dispatch Says Thor Hearne Has Some Complaints About The BRAD BLOG...

Fitzgerald: Libby Knew What the Investigation Was About, Lied Anyway
Defense: Libby Was Never Charged With the Underlying Crime, Should Not Have to Serve Time
Judge: I Just Cannot Buy In On That as Good Social Policy, There is a Price to Pay for Not Telling the Truth...
*** Special to The BRAD BLOG by Libby/CIA Leak Trial Correspondent Margie Burns
THURSDAY, JUNE 7th...
Bush DoJ Didn't Bother to Enforce Law Requiring Voter Registration Assistance for Poor
While Aggressively Enforcing Minor Provision of Law to Rework Voter Rolls, Purge 'Ineligible' and 'Dead' Voters
400 'Dead' Voters in Michigan Alone Complained About Being Kicked off the Rolls...

Post-Dispatch: ACVR's Thor Hearne Blames The BRAD BLOG for His Demise
(Imagine What We Could Have Done if the GOP Gave US the Million Dollars That Thor Had?!)

Where Were All the Republicans During Tuesday's Senate Judiciary Hearing?
None Bothered to Show Up for the Schlozman/Graves Testimony, We Tried to Find Out Why...
Guest Blogged by BRAD BLOG's D.C. Correspondent Margie Burns
FRIDAY, JUNE 8th...