In Case You Missed 'Em.... Not-To-Be-Missed Stories From the Week That Was This Week
Guest blogged by DES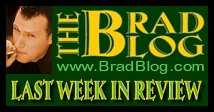 Obstruction of Justice, whether in political appointments or in elections, was the recurring theme this week, again.
Thankfully, "Elections have consequences." Those words from Sen. Barbara Boxer (D-CA) continued to reverberate throughout the halls and offices on The Hill this week, as Kyle Sampson, the former Chief of Staff to Attorney General Alberto Gonzales, was tasked with the unenviable role of "Next Fall Guy" (Lying Liars Division) in the Oversight and Accountability portion of our new Congressional program.
We also welcomed BRAD BLOG's newest Guest Blogger, Arlen Parsa, this week, with his explosive article connecting electoral dots, past and future, in the political perversion of justice at the Department of Justice.
And speaking of perversion, our D.C. Correspondent Margie Burns caught WaPo in what seems to be another act of swift-boating by media-abetted anonymous White House slur.
"Elections have consequences"... Do all roads lead to Rove on the Turdblossom Express?
In the meantime, get the popcorn ready and set your televisions to C-Span this next week --- The Waxman cometh...
For a look back at all of the above and much more that you may have missed last week, read on...
--- Click here for REST OF STORY!... ---




( 3 so far... )