In Case You Missed 'Em.... Not-To-Be-Missed Stories From the Week That Was This Week
Guest blogged by DES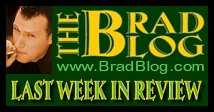 Obstruction of Justice, whether in political appointments or in elections, was the recurring theme this week, again.
Thankfully, "Elections have consequences." Those words from Sen. Barbara Boxer (D-CA) continued to reverberate throughout the halls and offices on The Hill this week, as Kyle Sampson, the former Chief of Staff to Attorney General Alberto Gonzales, was tasked with the unenviable role of "Next Fall Guy" (Lying Liars Division) in the Oversight and Accountability portion of our new Congressional program.
We also welcomed BRAD BLOG's newest Guest Blogger, Arlen Parsa, this week, with his explosive article connecting electoral dots, past and future, in the political perversion of justice at the Department of Justice.
And speaking of perversion, our D.C. Correspondent Margie Burns caught WaPo in what seems to be another act of swift-boating by media-abetted anonymous White House slur.
"Elections have consequences"... Do all roads lead to Rove on the Turdblossom Express?
In the meantime, get the popcorn ready and set your televisions to C-Span this next week --- The Waxman cometh...
For a look back at all of the above and much more that you may have missed last week, read on...
SUNDAY, MARCH 25...
Evidence Suggests U.S. Attorney Firings May Have Been Part of White House Scheme to Help Game 2008 Election
Karl Rove Associate and GOP Operative Tim Griffin's Appointment in Arkansas --- and Others Like it --- Are Worth Noting as the Scandal Continues to Unravel...
Guest Blogged by Arlen Parsa

In April 2006, Karl Rove gave a keynote address to the National Lawyers Association, a partisan legal group. "He ticked off 11 states that he said could be pivotal in 2008," McClatchy recalled in their report. "Bush has appointed new U.S. attorneys in nine of them since 2005."

FL-13: State Audit Team Replies to Questions Surrounding Newly Discovered ES&S 'Source Code Review Agreement' Sent to State Certification Chief
Team's Lead Investigator, Alec Yasinsac --- a Noted Republican Partisan --- Claims No Knowledge of Voting Machine Company's Pre-Testing Dictates...
MONDAY, MARCH 26...
CACEO Goes Coo-Coo Over New 'Top-to-Bottom Review' Criteria for Voting Systems in California
Official Comments from CA Election Clerks on Proposed Test Criteria by SoS Bowen Reveal They Are in a Panic...
And Are Clueless About the One Thing That Truly Matters to Voters...
TUESDAY, MARCH 27...
DoJ Attorney Firing Excuse Blaming Lack of Immigration Prosecutions Falls Apart in Wake of New Email Docs...

You'll be stunned to learn that the immigration claims were little more than a cover story hatched by the DoJ communications team as they initially prepared (and, apparently "misunderestimated" the need for) their public explanations for the politically-based firings. All exposed in new email docs dumped late last Friday, following the 3000+ pages dumped earlier in the week.

Election Contest Decided by 3 Votes, Judge Refuses to Order Hand Count of E-Voting Machine's 'Paper Records'
'Why would you have a paper record if you don't count it?' Asks 'Losing' Candidate
Orange County, CA, Court Decision to 'Set Precedent' According to Both Sets of Attorneys...

And Then There Was One...Bob Bennett is Now Last Man Standing on Cuyahoga County, Ohio, Elections Board
Another Resignation Leaves Only the Chair of Both the Ohio Republican Party and Cuyahoga's Election Board After SoS Demands All Resign in State's Most Democratic County...
WEDNESDAY, MARCH 28...
Diebold Turns Massachusetts Courtroom into Alice-In-Wonderland Jester's Court
'Frivolous' Lawsuit Seeks to Void $9 Million Contract Awarded to Rival Voting Machine Vendor
A BRAD BLOG Exclusive Report from the Courtoom in Boston...
Guest Blogged By Michael Richardson

HACKIN' HARRI HURSTI TO APPEAR BEFORE PANEL IN RIVERSIDE COUNTY, CA!
Finnish Security Expert to Appear, Give Testimony This Friday Before County's 'Blue Ribbon' Commission Investigating Complaints About Local Election System
No Word on Whether Gamblin' County Supervisor, Jeff '1000 to 1' Stone, Will Be in Attendance...
THURSDAY, MARCH 29...
Brennan Center Op/Ed in WaPo: 'The Myth of Voter Fraud' and the U.S. Attorney Purge Scandal
From attorneys Michael Waldman and Justin Levitt of the Brennan Center for Justice at New York University School of Law in today's WaPo...

VIDEO: Dobbs Slams Bush Administration
Calls admin 'out of their minds' 'political hacks'
Guest Blogged by Alan Breslauer

Patrick Fitzgerald Swift-Boated by Bush Admin Amidst U.S. Attorney Purge Scandal, Assisted (Again) by Washington Post
DoJ Rated Prosecutor 'Very Strong' --- NOT 'Undistinguished' --- But WaPo Ran With Claims from 'Unnamed Adminstration Officials' Anyway
Who Fed the Poison Pill? And Why Did it Run Unchecked?
*** Special to The BRAD BLOG
*** by D.C. Correspondent Margie Burns
FRIDAY, MARCH 30...
McNerney Election Protection Task Force Releases Election Report with 36 Recommendations
Poorly Performing DREs, Lack of Oversight and Transparency Leads to Conclusion of 'Not Acceptable' by WINNER of Last November's CA-11 U.S. House Election...

FIRE IN LOS ANGELES: The Sky Turns Orange Above BRAD BLOG World News Headquarters
Muckracking 'Staff' Stirred But Not Shaken...

EAC Finally Releases Previously Withheld, 9 Month Old Report on 'Voter ID' Concerns After Congressional Prodding
One of Several Reports 'Buried' by EAC, Shows Drop in Voter Participation in Wake of Poll Restrictions, Is Shamelessly Described as 'Draft'
Election Law Professor Warns: 'Chance for EAC to be an Honest Broker Above Politics Are Fading'...
SATURDAY, MARCH 31....
Bush's Chief 2004 Election Strategist: 'Faith in Bush Misplaced, Kerry Was Right'
Matthew Dowd is First of Inner Circle to Speak Out Publicly Against Iraq War, Bush: 'Just Being Quiet is Not an Option'
CRAWFORD 2005 CAMP CASEY BRADCAST FLASHBACK: 'Sons and Daughters'