With Brad Friedman & Desi Doyen...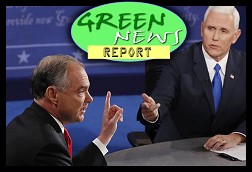 IN TODAY'S RADIO REPORT: Hurricane Matthew churns towards U.S.; Climate change shut out - again! - at the Vice Presidential debate; Canada to establish a national carbon tax; New study warns the world is rapidly using up its 'carbon budget'; PLUS: Global Paris Agreement surges over the finish line before the U.S. Presidential election... All that and more in today's Green News Report!
Got comments, tips, love letters, hate mail? Drop us a line at GreenNews@BradBlog.com or right here at the comments link below. All GNRs are always archived at GreenNews.BradBlog.com.
IN 'GREEN NEWS EXTRA' (see links below): No country on Earth is taking the 2 degree climate target seriously; How the Earth will pay us back for our carbon emissions with … more carbon emissions; Hurricane Matthew is super strong — because of climate change; Activists Warn That Toxic PCBs Contaminate Thousands Of U.S. Schools; Dakota Access: Judges Appear Skeptical Of Freezing Pipeline; Invasive Insects Cause Tens Of Billions In Damage: Study... PLUS: China's $450 billion farm plan could determine our fate... and much, MUCH more! ...
--- Click here for REST OF STORY!... ---




( 2 so far... )