Guest blogged by David Edwards of Veredictum.com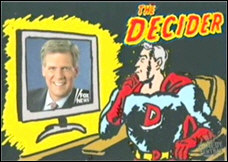 Video in Streaming Flash format...
Video in Windows Media format...
Jon Stewart reports on another important decision by the president. Stewart takes his first shots at Tony Snow as Bush's new Press Secretary.
If this first segment is any indication then Mr. Snow may soon become a favorite subject for Daily Show viewers.