With Brad Friedman & Desi Doyen...
The St. Paddy's Day Edition!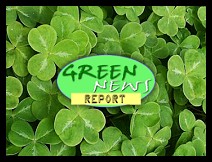 IN TODAY'S REPORT: We're not just "wearin' the green", we're bein' it!; The "Filthy Fifteen" list is out, is your state on it?; Australia declares a natural disaster after an oil spill!; PLUS: RNC Chair Michael Steele joins the Flat Earth Society! All that and more in today's Green News Report!
What are your thoughts on today's conversation about the RNC? Drop us a line at GreenNews@BradBlog.com or right here in comments. All GNRs are always archived at GreenNews.BradBlog.com.
Info/links on stuff we talked about on today's episode, plus MORE green news, all follows below...
More green news not covered in today's episode: