With Brad Friedman & Desi Doyen...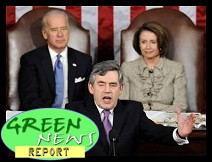 IN TODAY'S REPORT: British Prime Minister Gordon Brown calls on America to lead the way to a global green economy ... Happy birthday to the hybrid-electric car ... Obama vows to return science to the Endangered Species Act ... and a Republican governor proposes taxes on free water!
Got your own green thoughts? Leave 'em in comments, or drop us a line at GreenNews@BradBlog.com! All reports are archived for your listening and reading pleasure at GreenNews.BradBlog.com.
Info/links on stuff we talked about on today's episode, plus MORE green news, all follows below...
Remarks of UK Prime Minister Gordon Brown to to Joint Session of U.S. Congress - Video, green portion starts at appx. 21 min mark, Complete transcript, Transcript of portion on global green initiatives:


And it is this faith in the future that means we must commit to protecting the planet for generations that will come long after us.

As the Greek proverb says, why does anybody plant the seeds of a tree whose shade they will never see?

The answer is because they look to the future.

And I believe that you, the nation that had the vision to put a man on the moon, are also the nation with the vision to protect and preserve our planet earth.

And it is only by investing in environmental technology that we can end the dictatorship of oil, and it is only by tackling climate change that we create the millions of new green jobs we need.

For the lesson of this crisis is that we cannot just wait for tomorrow today. We cannot just think of tomorrow today. We cannot merely plan for tomorrow today. Our task must be to build tomorrow today.

And America knows from its history that its reach goes far beyond its geography. For a century you have carried upon your shoulders the greatest of responsibilities: to work with and for the rest of the world. And let me tell you that now more than ever the rest of the world wants to work with you.
More green news not covered in today's episode:
Yellow Is the New Green: "In Sweden, some of the collected urine — which contains 80 percent of the nutrients in excrement — is given to farmers, with little objection."