In Case You Missed 'Em... Our Most Important Stories from the Last Week
Guest blogged by DES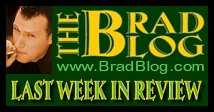 Just a quick intro this week due to travel, but be sure check out the headlines below to make sure you're up-to-date on the goings-on from the last week: From another special report by Greg Palast on tearful vote-cager Tim Griffin (followed shortly thereafter by a new Senate Judiciary Committee investigation into the activities of the Crying Cager), to more fun with Thor Hearne and Rep. Tom Feeney (R-Abramoff), to the unprecedented move by CA Sec. of State Debra Bowen to access voting machine source code, it's been a busy week. And, while Brad is on the road to the Progressive Cabinet Summit and the U. S. Social Forum Conference in Atlanta, check out our new guest bloggers, bringing you fresh perspective and news items you won't find in the MSM....
Read up on all the stories you may have missed from the last week, and consider yourself upped...
SUNDAY, JUNE 17th....
Palast Exclusive: The Tears of a Clone
Conyers Closes in on Karl and his Rove-bots...
*** Special to The BRAD BLOG by Greg Palast

Boo-hoo! I made Tim Griffin cry.

He cried. Then he lied.
MONDAY, JUNE 18th....
Holt Election Bill Supporters Rage in Favor of the Machine
The Pro-HR811 Crowd Unleash All Manner of Personal Attacks Against Those Who Dare Oppose Thier Beloved Legislation as Written...

SENATORS DEMAND JUSTICE DEPT. INVESTIGATION INTO TIM GRIFFIN, RNC 2004 VOTE CAGING ALLEGATIONS
Sens. Kennedy and Whitehouse Send Letter to DoJ Inspector General's Office Seeking Probe into RNC Voter Supression Tactics
Inquiry Into What Justice Officials Knew About Griffin's Vote Caging Activities When He Was Named as US Attorney for Arkansas
TUESDAY, JUNE 19th...
White House Personnel Had Those Separate Email Accounts 'From the First'
Former Rove Aide Susan Ralston Testified to Heavy Use of Email Accounts Provided by Republican National Committee
So Where Are The RNC-DOJ-WH-OVP Emails About Chandra Levy? Anthrax Letters? Clint Curtis?
Guest Blogged by The BRAD BLOG's D.C. Correspondent Margie Burns

Three Fresh Thor Hearne/ACVR Exposés for Your Phony 'Voter Fraud'/US Attorney Purge Pleasure...
WEDNESDAY, JUNE 20th....
GOP Plays 'Voter Fraud' Card in North Carolina
Republicans Delay Vote on New Registration Initiative with Dubious Charges of 'Invalid Voters'...

Arkansas Senators Support Demand for DoJ Investigation of Tim Griffin's 2004 RNC 'Vote Caging'

VIDEO: The Tie That Binds The 'Brooks Brothers Riot,' Bush's 'Bullhorn' Moment, & CENTCOM's Selling Of The War In Iraq
Josh Rushing Explains Republican Operative Jim Wilkinson's Role In All Three Seminal Events
Guest Blogged by Alan Breslauer
THURSDAY, JUNE 21st....
Deputy Attorney General Paul McNulty Testifies to Congress One Last Time
Hearing Clearly Reveals Continuing Lack of Interest in the Vote Caging Issue at DOJ
But McNulty Testimony Throws Little Light on DOJ Hirings and Firings
Guest Blogged by The BRAD BLOG's D.C. Correspondent Margie Burns

Unprecedented: CA SoS Pulls Voting Machine Co. Source Code Out of Escrow
After ES&S Refuses To Turn-Over Source Code For 'Top-To-Bottom' Review
SoS Debra Bowen: 'I'm not going to stand by and watch ES&S ignore the the State of California'
Guest Blogged by John Gideon with help from Brad On-The-Road
FRIDAY, JUNE 22nd....
Citizens 1, Microsoft 0
New Yorkers win Round One in fight for source code protections
Guest Blogged by Bo Lipari of New Yorkers for Verified Voting

NPR's Muddy Airwaves
Confusion over Paper Ballots
Guest blogged by Bob Bancroft of VotersUnite.Org

Tom Feeney Creates Legal Defense Fund
'I always have acted with honesty and integrity,' Says Corrupt Florida Congressman, Alleged Vote-Rigging Conspirator...
UPDATE: Feeney Creates Own Blog, Welcomes Your Comments!