And What a Week It Was...
In Case You Missed 'Em... Selected Stories of Note from This Joint Over the Past Seven Days...
Guest Blogged by DES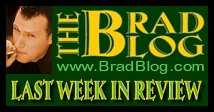 This week marked BRAD BLOG's third anniversary and looked initially as if it might be a slow State of the Union rehash week, but quickly moved into red-hot territory as the Libby Perjury Trial got underway, serving up a daily courtroom dish chock full of juicy bits (and not a damn thing this famously secretive White House can do about it). Dems in da House are turning up the heat as well, cooking up a stew of investigations to right the imbalance of power between our Constitutionally-designated co-equal branches of government. Though Diebold, again, managed to outdo them all in the "incompetence" category.
There were also a few notable developments in the fight to protect the integrity of our elections --- oh, nothing major, just a few Ohio elections officials finally CONVICTED of rigging the 2004 Presidential recount --- nothing to see here, folks! Just move along...Or, take a look at just a few of the most notable stories we ran last week...
SUNDAY, Jan. 21st....

A 'Plan' for 'Success' in Iraq....
...As Proposed by Fred Kagan, Bastardized by Bush and Spun by Kagan with an Assist from Bill Kristol...

Meanwhile, as Bush prepares to serve up another 21,500 American troops to Iraq, it's worth taking a look at who the hell came up with the "augmentation" plan in the first place, what it said before the Bush spin machine grabbed hold of it, and what the plan's author has had to say since Bush revealed it to the country on January 10, 2007.
MONDAY, Jan. 22nd...
Iraqi PM: Condi Rice Statement Helps Al-Qaeda

"Such statements give moral boosts to the terrorists."

Frank Luntz is a Liar
Shame on Huffington Post for Giving Him a Platform to Do So...
Treacherous Republican wordsmith/pollster/spinman Frank Luntz sinks to new depths in pretending to offer "advice" for the Democratic Party in a condescending little screed posted at Huff Po on Sunday.
TUESDAY, Jan. 23rd...
BREAKING CIA LEAK CASE: Prosecutor Says Libby 'Destroyed' Cheney Note, V.P. 'Far More Involved in Leak Case Than Previously Known'
Defense Attny: Libby Was Worried About Being 'Sacrificial Lamb for Karl Rove'

"They're trying to set me up. They want me to be the sacrificial lamb," Wells said, recalling the alleged conversation between Libby and Cheney. "I will not be sacrificed so Karl Rove can be protected."

Statement from Pelosi Spokes on Webb's SOTU Response
'Logistics of Giving Democratic Response in the Chamber Tonight Make it Impossible at This Late Date'

While the logistics of having Senator Webb give the Democratic Response in the Chamber tonight make it impossible at this late date, he will be addressing the American people directly from the Capitol and he will speak with authority for all Democrats in committing to a New Direction here and abroad. His strong voice will be heard.

Ohio's Blackwell Authorized $80k in Farewell Bonuses to State Employees as He Left Office
Another Suprise: $250k in Legal Settlements for 2004 Election, Helping to Leave Office $1 Million Short as New SoS Takes Helm
BRAD BLOG EXCLUSIVE: Memo Listing Bonus Payments to 19 of the Outgoing Buckeye State SoS' Office Pals, Legal Action May Follow...

DIEBOLD VOTING MACHINE KEY COPIED FROM PHOTO AT COMPANY'S OWN ONLINE STORE!
Princeton University Computer Scientists Confirm 'Secret' Key For Every Diebold Voting Machine 'Revealed' on Company Website!
[UPDATED THRICE] Shutting the Barn Door After Horse Has Left: Diebold Removes Photo, PLUS: Receives Certification for U.S. Homeland Security Contracts...
NOW BAIT & SWITCH: Diebold Puts Digital Key Online Where Mechanical Key Was Previously!
WEDNESDAY, Jan. 24th...
Vet Group: Bush Failed to Mention American's 1.6 Million Vets During State of the Union for Second Year in a Row
Why Does George W. Bush Hate Our Troops?

'Daily Voting News' For January 24, 2007

According to an article in The Hill: "A new academic study of voting in Florida's 13th district congressional race refutes the prevailing opinion of experts that the large undervote in the race in November was likely due to poor ballot design. The new study points to an error message that the experts say correlates with the undervotes, as well as to voting patterns that show unusually high undervote rates for Democratic voters. The study's authors say more information, specifically the secret software used by the voting machines, is required to draw any real conclusions."


TWO OHIO ELECTION OFFICIALS CONVICTED FOR RIGGING 2004 PRESIDENTIAL RECOUNT!
Will be Questioned by Special Prosecutor Before Sentencing to Learn if Higher Ups Involved
RELATED: Kerry Drops Out of 2008 Race. In Advance This Time.

These convictions occurred in Cuyahoga County, a Democratic stronghold of some 600,000 voters. Kerry "lost" the state of Ohio, according to the history books anyway, by just 118,000 out of some 5.5 million votes cast in the Buckeye State.
THURSDAY, Jan. 25th...
Scalia on His 2000 Decision to Award the Presidency to George W. Bush: 'Get Over It'
Dishonorable SCOTUS Justice to American Democracy: 'Go Fuck Yourself'
RELATED: Al Gore Must Run Again...

And the Hearings Begin...
Conyers and Feingold Announce Judiciary Hearings on Bush Admistration Policy in Both Senate and House...

In the House, Rep. John Conyers (D-MI), chairman of the House Judiciary Committee --- the one which would lead the way concerning any Articles of Impeachment for a sitting U.S. President or Vice-President --- announced today that hearings would be held next Wednesday in the committee on "Presidential Signing Statements under the Bush Administration: A Threat to Checks and Balances and the Rule of Law?" (Complete media release, with details, scheduled witnesses, etc. at end of this article.)

In the Senate, Russ Feingold (D-WI) will chair Judiciary Committee hearings on "Congress's Power to End a War." In a media advisory just released, (posted in full below) Feingold refers to Congress's "power of the purse to redeploy our troops safely from Iraq so that we can refocus on the global terrorist networks that threaten our national security."

LIBBY TRIAL: 'Memory Defense' Denied in Court
But Rightwing Outlets Run With It and the Rest of the Media Follow...
*** Special to The BRAD BLOG by Libby/CIA Leak Trial Correspondent Margie Burns
FRIDAY, Jan. 26th...
Subpeonas May be Issued by NY State After 'Outrageous' Snub by U.S. Elections Assistance Commission
Election Board Ire as EAC Fails to Disclose 'Soiled Laundry' on Failure to Accredit Voting System Test Lab

"What is going on here? Both the EAC and the unaccredited testing lab are refusing to open the curtain that hides their soiled laundry." - Doug Kellner, NY State Board of Elections

Happy 3rd Anniversary to The BRAD BLOG!

And as we enter Year 4 here, I suspect we'll enjoy many more breathtaking plunges, climbs and g-force brownouts on the unpredictable roller coaster that is

The BRAD BLOG

....Thanks to all

BRAD BLOG

readers and supporters for three years of unimaginable "success"! Couldn't be prouder to know you're here. Onward!
SATURDAY, Jan. 27th...
LIBBY TRIAL: CIA Briefer for Cheney, Libby Kept Subject Headings for Shredded Briefing Topics
Courtroom Disclosure Indicates Daily CIA Headings Not Sent with Briefing Binders to Burn Bag
Tables of Contents Subjects May Show What White House Knew and When Concerning Nigerian Uranium Questions...
*** Special to The BRAD BLOG by Libby/CIA Leak Trial Correspondent Margie Burns

Feingold to File Senate Legislation Calling for Defunding of Iraq War
Fact-Sheet Released Covering General Details, Points to Republican Passed Legislation to Defund U.S. Troops in Bosnia Under Clinton in 1998...

The BRAD BLOG has now obtained details from Feingold's office concerning what his proposal to exercise Congressional control of the purse strings over military deployment in Iraq will and won't do. A fact sheet concerning his upcoming legislation and how the defunding and re-deployment of U.S. troops would be conducted is included.