Guest blogged by David Edwards of Veredictum.com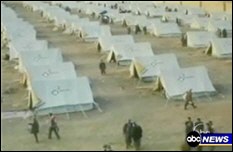 Video in Streaming Flash format...
Video in Windows Media format...
More than 30,000 Iraqis have been forced to flee from their homes after being threatened with death due to sectarian differences. This video from ABC News reports on one Iraqi family that has been forced into exile. While the video doesn't reflect the magnitude of the problem, it is one of the first reports broadcast to a large American audience.
In the ABC News video report, Professor of Mideast Studies at Sarah Lawrance College Fawaz Gerges says, "This is the beginning of the nightmare." Fawaz's experience tells him that Iraq is at the early stages of Bosnia's ethnic cleansing or Lebanon's civil war.
On March 22, the Bassem Mroue of AP wrote:
A sign posted in Baghdad's famous Sunni Muslim Abu Hanifa Mosque tells half the story of the growing numbers of displaced Iraqis in the wake of sectarian killings set in motion by the Feb. 22 attack on the Askariya shrine in Samarra.
"We urge those wishing to help displaced families to give their offerings to the mosque Donations Committee," the sign said. Sunnis have come by the hundreds, and dozens more arrive daily.
The second half of the increasingly violent tale can be found among displaced Shiites in the capital, who have fled primarily to be with other Shiites in the Sadr City slum. Followers of radical cleric Muqtada al-Sadr were waiting with a huge network already in place.
Even before the shrine bombing, the practice of ethnic displacement had been going on for some time in neighborhoods south of Baghdad. But in the aftermath of the Samarra attack, it has become a nationwide problem in places where the two sects had lived as neighbors.