With Brad Friedman & Desi Doyen...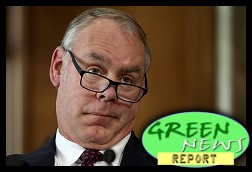 IN TODAY'S RADIO REPORT: Scandal-plagued Trump Interior Secretary Ryan Zinke is out; United Nations COP24 climate talks make progress on the Paris Agreement 'rule book'; Youth climate activists ratchet up the pressure; PLUS: Companies jump at U.S. offshore wind lease sale, shattering all previous records... All that and more in today's Green News Report!
Got comments, tips, love letters, hate mail? Drop us a line at GreenNews@BradBlog.com or right here at the comments link below. All GNRs are always archived at GreenNews.BradBlog.com.
IN 'GREEN NEWS EXTRA' (see links below): U.S. Southwest may be deep into a climate-changed mega-drought; Most Americans want action on climate change --- Republicans are the exception; As Americans wake up to climate threat, Deniers dig in; Green New Deal has strong bipartisan support; Hurricane Michael cost this military base about $5 Billion; What a partial US-government shutdown would mean for science; There's no easy fix for our nuclear past; California requires new city buses to be electric by 2029; Georgia Power coal ash ponds leaking toxins into groundwater... PLUS: An epidemic is killing thousands of coal miners. Regulators could have stopped it... and much, MUCH more! ...
STORIES DISCUSSED ON TODAY'S 'GREEN NEWS REPORT'...
Scandal-plagued Sec. Ryan Zinke is out at Interior:
COP24: United Nations climate talks ends with deal on 'rulebook':
COP24: Youth climate activists racthed up the pressure: