With Brad Friedman & Desi Doyen...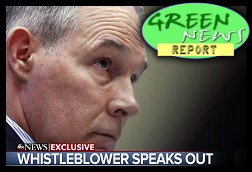 IN TODAY'S RADIO REPORT: Whistleblower says EPA chief Pruitt lied to Congress; Trump Administration's launches new effort to roll back fuel economy standards; Australia pledges of millions of dollars in bid to rescue Great Barrier Reef; PLUS: The U.S. now has its first-ever climate science denying Secretary of State... All that and more in today's Green News Report!
Got comments, tips, love letters, hate mail? Drop us a line at GreenNews@BradBlog.com or right here at the comments link below. All GNRs are always archived at GreenNews.BradBlog.com.
IN 'GREEN NEWS EXTRA' (see links below): Climate change will leave many Pacific islands uninhabitable by mid-century; House panel to interview EPA chief Scott Pruitt's former head of security in conduct probe; Pruitt's EPA is on the verge of 'regulatory capture', study says; Electric buses are coming, and they're going to help fix 4 big urban problems; New York to electrify complete bus fleet; EPA grants 'financial hardship' waiver to oil refinery owned by billionaire, Trump confidant; The world's bleak climate situation, in 3 charts; n the fate of the California Delta smelt, warnings of conservation gone wrong; In Cities v. Fossil Fuels, Exxon's allies want the accusers investigated; U.S. Supreme Court rejects Constitution Pipeline over New York permit; Russia launches floating nuclear power plant, now headed to the Arctic... PLUS: It's time to think seriously about cutting off the supply of fossil fuels... and much, MUCH more! ...
STORIES DISCUSSED ON TODAY'S 'GREEN NEWS REPORT'...
Whistleblower alleges EPA chief Pruitt lied to Congress about employee retaliation:
Koch's Rep. Mike Pompeo confirmed as US climate science-denying Sec. of State:
Trump DOT and EPA develop plan to weaken fuel economy standards:
Michelle Wolf forces sensitive DC media to remember Flint Water Crisis:
Australia's big funding effort to rescue its Great Barrier Reef:
'GREEN NEWS EXTRA' (Stuff we didn't have time for in today's audio report)...
For a comprehensive roundup of daily environmental news you can trust, see the Society of Environmental Journalists' Daily Headlines page
---
FOR MORE on Climate Science and Climate Change, go to our Green News Report: Essential Background Page
NASA Video: If we don't act, here's what to expect in the next 100 years: