Guest Blogged by John Gideon of VotersUnite.org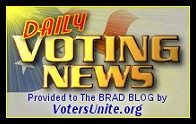 Even though the Nov 4 election has been certified by the Riverside Co California RoV since Dec 2, the county is still in the process of doing the state-mandated hand count verifying all ballots cast on touch-screen voting machines. Maybe sometime this week?
The court in Minnesota is still busy gathering testimony and evidence in the Coleman-Franken trial. Maybe sometime this week?
New Mexico has joined a growing number of states that are turning to the insecure and non-verifiable internet as a voting option. It is amazing that state election experts have ignored computer scientists, network security experts, the Dept. of Defense, the National Institute of Sciences and Technology, the Government Accountability Office and others who all say the internet is not secure enough for elections. ...
**"Daily Voting News" is meant as a comprehensive listing of reports each day concerning issues related to election and voting news around the country regardless of quality or political slant. Therefore, items listed in "Daily Voting News" may not reflect the opinions of VotersUnite.Org or BradBlog.Com**