Guest Blogged by John Gideon of VotersUnite.org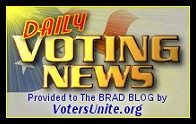 Today we have two "Featured" articles. The Connecticut Office of Veterans Affairs, under threat of a lawsuit, has allowed Secretary of State Susan Bysiewicz to enter the Veterans Hospital in West Haven to register voters and to do voter education. Let's hope this is a small hole that will finally cause the wall between the DVA and veteran's rights to vote to crumble into dust.
More good news from the US Election Assistance Commission where computer scientist and election integrity advocate Dr Barbara Simons has been selected to fill a seat on the EAC Board of Advisors. This is a good addition as Dr. Simons will add a voice of reason to combat the voices of the vendor's surrogates who are on that committee....
**"Daily Voting News" is meant as a comprehensive listing of reports each day concerning issues related to election and voting news around the country regardless of quality or political slant. Therefore, items listed in "Daily Voting News" may not reflect the opinions of VotersUnite.Org or BradBlog.Com**