In Case You Missed 'Em.... Important Developments From the Past Seven Days...
Guest blogged by DES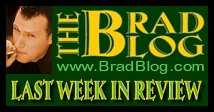 It was anything but a quiet week at The BRAD BLOG last week... Revelations continued to hemorrhage out of the Department of Justice regarding the, er, inconsistencies in statements from DoJ officials, as contradicted by their own emails in the firing of eight (or more?) U.S. Attorneys, revealing the apparent transformation of Justice into a political blugeoning arm of the Bush Administration. Brad called out People for the American Way for their troubling advocacy in favor of disenfranchising DRE touch-screen voting systems. And a new breed of honest and responsible (and female) Secretaries of State proved that voters' faith was not misplaced last November, when they voted for these reformers to restore accountability to their state governments.
The Accountability and Oversight Juggernaut continues --- woe betide those who would get in the way of these strong, honest women! Not to mention Barbara Boxer!
MONDAY, MARCH 19th...
TUESDAY, MARCH 20th...
SENATE JUDICIARY HEARINGS: Half a Trillion Spent in Iraq With No Controls, Leahy Introduces Oversight Bill
The Vermont Senator Says We Are Otherwise On Track to Send a Full Trillion with No Oversight Adequate to Control Waste, Fraud and Abuse...
Guest Blogged by BRAD BLOG D.C. correspondent Margie Burns

DoJ Emails: Cunningham Complained About Lam in Letter to DoJ Just Prior to His Guilty Plea
Corrupt Congressman Joined Concerted GOP Effort to Criticize Prosecutor Who Would Soon Put Him Behind Bars...
WEDNESDAY, MARCH 21st...
THURSDAY, MARCH 22nd...
CA50: Appellate Court Dismisses Busby/Bilbray Election Contest as Now 'Moot'
Voters, State Law, Rendered Meaningless, Plaintiffs Likely to Appeal Decision to CA Supreme Court...
FRIDAY, MARCH 23rd...
OH SOS Brunner Slams Remaining Cuyahoga County, OH Election Board Members
They Were Warned To Resign or Come What May...And So It Shall Be...

CA SoS Debra Bowen Releases 'Top to Bottom Review' Criteria for E-Voting Machine Certification in California
It's a Bad Day in Cali for Diebold and ES&S and Sequoia and Hart Intercivic...But a Great Day for the Voters!

ES&S MELTDOWN '07: Trainwreck Begins Anew as Voting Machine Company Fails in Wisconsin
Clark and Taylor Counties Short-Changed as Nation's Top Voting Machine Vendor is Yet To Deliver Materials for Election Just 12 Days Away...
SATURDAY, MARCH 24th...
One of America's Worst Elections Administrators Gets a Promotion! Congratulations Mikel Haas!
San Diego County Chief Promotes Hard Rightwing Haas to Top Executive Position in County!

BREAKING FL-13: NEW UNDISCLOSED LETTER OF AGREEMENT FROM ES&S TO STATE UNEARTHED!
Terms of 'Independent' State Run Audit, Source Code Review Dictated by Voting Machine Company to Florida State Election Director Prior to Tests of Failed Touch-Screen Voting Systems from Contested Jennings/Buchanan Election!