In Case You Missed 'Em.... Not-To-Be-Missed Stories From the Week That Was This Week
Guest blogged by DES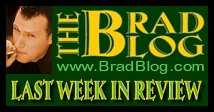 ...And what a week it was: The story that would not be ignored, the story that would not die, became a very big deal as the I. Lewis "Scooter" Libby CIA Leak trail finally drew to a close. But it ain't over yet! The Oversight and Accountability portion of our program is just beginning. Be sure to stay tuned to Special Correspondent Margie Burns's in-depth analysis, exclusively for BRAD BLOG readers.
Plus there were oodles of opportunities to contemplate free speech and the First Amendment, courtesy of a judge in Kansas (what is the matter with Kansas, anyway?) and the ongoing fall-out from the "F-bomb" dropped by that sad clown of rightwing "comedy," Ann Coulter. Apparently impeachment is back on the table, and now a safe word for even a Republican to say out loud! That's free speech in action, folks! And.... oh, yeah --- a computer security scientist told the Senate some very not-nice things about those electronic touch-screen voting machines...do ya think they'll listen?
SUNDAY, March 3rd...
EXCLUSIVE INTERVIEW: Clint Curtis Documents Evidence of Widespread 2006 Florida Election Fraud
The Whistleblower Turned U.S. House Candidate Continues His for Fight for Election Integrity and His Federal Challenge to his 2006 Race with the Corrupt Tom Feeney
*** Special to The BRAD BLOG
*** By Guest Blogger Jim Cirile
MONDAY, March 4th...
BRAD BLOG Runs Judge-Censored Stories on Kansas City's Board of Public Utilities
In Support of the First Amendment to the Constitution of the United States of America...
Including 'The Pitch' Version of the Story in full, along with the Kansas City Star's version
TUESDAY, March 5th...
Hypocritical GOP Bloggers' Ann Coulter Condemnation of Convenience
'Conservative' Bloggers Call on CPAC to Exclude Ann Coulter, But Give Themselves a Pass for Enabling Her For Years
The Sad, Discredited Republican Clown's Long Documented History of Vile Hate Speech and Rhetoric Conveniently Ignored by Newly Converted 'Conservatives' Only Now Declaring 'the Age of Ann Has Passed'

NSWBC: FBI Whistleblowers Confirm Illegal Wiretaps of Government Officials
Out this morning from the National Security Whistleblowers Coalition...

William Weaver, NSWBC Senior Advisor: "Preservation of the balance of powers between the branches of government increasingly relies on information provided by whistleblowers, especially in the face of aggressive and expanding executive power."

LIBBY TRIAL: While Awaiting the Jury Verdict, Some Questions
Were Cheney, Bush and Their Top Aides Briefed on the Reports Revealing the Niger/Uranium/Iraq Deal Was Bogus?
What the Records from the CIA Briefing Books Might Show...
*** Special to The BRAD BLOG
*** by Libby/CIA Leak Trial Correspondent Margie Burns

CHENEY CHIEF OF STAFF 'SCOOTER' LIBBY FOUND GUILTY IN FOUR OF FIVE COUNTS!
Two Counts of Perjury, One Each of Obstruction of Justice, Giving False Statements to the FBI
DETAILS FROM THE COURTHOUSE FROM BRAD BLOG LIBBY TRIAL CORRESPONDENT MARGIE BURNS...

HAGEL: 'Before This is Over, You Might See Calls for his Impeachment'
The Republican Senator, Decorated Vietnam War Vet, Puts the I-Word 'Back on the Table' in Esquire Interview...

Democratic Judiciary Statement on Today's U.S. Attorney Firing Hearings
CONYERS: 'It is time to rein in this President and his Administration'
SÁNCHEZ: 'DoJ acted behind closed doors to intimidate appointees...Had no effective oversight during previous majority'

Court of Appeals Overturns Kansas City Judge, UN-Censors Story on Alleged Violations by Public Utility Board
The First Amendment Wins Again...
WEDNESDAY, March 7th...
Libby Trial Ends, Reveals Clear-Cut Patterns
An Eyewitness 'Selective Memory' Postmortem...
*** Special to The BRAD BLOG
*** by Libby/CIA Leak Trial Correspondent Margie Burns
THURSDAY, March 8th...
NEW GAO REPORT: Yet Another Confirmation That 'Security and Reliability Concerns' of Election Integrity Experts are 'Legitimate' (To Say the Least)
And Another Reminder That 'Problems with Recent Elections Resulted in Loss and Miscount of Votes'
And Another Reminder that the both the U.S. Elections Assistance Commission (EAC) and the Mainstream Media Alike Have Utterly Failed in their Missions...

TRANSPARENCY: House Oversight and Government Reform Committee Reports Out Four Good Bills
Chairman Henry Waxman Lets the Sunshine In
Bills the GOP Tried to Pass Against Clinton Now Resurrected With Bipartisan Support...
Guest Blogged by BRAD BLOG D.C. correspondent Margie Burns

Fitzgerald Invited, Plame Confirmed for Testimony at Congressional Hearings
Role of Cheney and Bush in CIA Leak Scandal to be Probed in Hearings...
FRIDAY, March 9th...
20 Voters File Complaint Alleging Touch-Screen Vote-Flipping in Montgomery County, OH
County's Election Director, Steve Harsman, Wholly Clueless...

AVI RUBIN: 'After Four Years of Study, I Now Believe that a DRE (touch-screen) with a VVPAT (paper-trail) is Not a Reasonable Voting System'
Johns Hopkins Professor, E-Voting Security Expert Goes on Record Against Electronic Ballots at Congressional Hearings on Election Integrity...