Guest blogged by David Edwards of Veredictum.com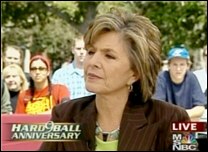 Video in Streaming Flash format...
Video in Windows Media format...
Audio in MP3 format...
Yesterday, Senator Barbara Boxer delivered a letter to President George W. Bush demanding that he apologize for his role in using NIE intelligence for political purposes. Boxer's letter begins, "I am writing to request that you apologize to the American people for your role in declassifying information for political reasons and authorizing its dissemination."
Senator Boxer appeared on MSNBC Hardball to explain her reason for writing Bush. Boxer also spoke in support of Senator Feingold's censure resolution.
From the MSNBC transcript:

MATTHEWS:
Thank you, David. Great report. With us now in California is California's own Barbara Boxer, the Democratic senator, who wants to censure President Bush for the NSA's domestic surveillance program and today SHE called on the president to apologize for, "declassifying information for political reasons during the Iraq war."
Let me ask you this, Senator, are you going to follow through with this? Are you going to try to get him censured?
SEN. BARBARA BOXER: Well, I absolutely feel that we can't close our eyes to what this president has done. You could ask me is it a smart, strategic move for the Democrats, I don't know if it is or isn't, Chris. But every day you think it can't get worse and it gets worse.
Now we see how hard the president himself tried to hurt Ambassador Joe Wilson, who told the truth about Saddam Hussein and the nuclear weapons program. He told the truth that it wasn't happening. And yet in fact, this president wanted to release information that even he knew, and the administration knew, was suspect.