Guest blogged by David Edwards of Veredictum.com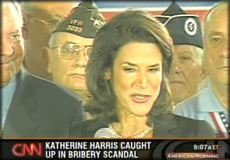 Known for her role in the 2000 Presidential debacle, Katherine Harris has been linked to illegal campaign contributions funneled from a defense contractor who has also been convicted for bribing former Representative Cunningham.
As a member of the House of Representatives, Harris tried to secure a $10-million Federal deal for the convicted defense contractor. At about the same time, one of Harris' aides, Mona Yost, was hired by the same contractor.
Katherine Harris denies knowledge of the illegal campaign contributions. Randy "Duke" Cunningham is being sentenced today for accepting bribes in exchange for securing Federal contracts and other favors.

Video in Streaming Flash format...
Video in Windows Media format...