Guest blogged by David Edwards of Veredictum.com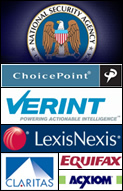 Video in Streaming Flash format...
Video in Windows Media format...
Audio in MP3 format...
Thanks to a heads-up from Larisa at The Raw Story, we were able to captured this broadcast of CNBC's Tim Russert show. Russert interviewed James Risen and Robert O'Harrow, Jr. The video contains about 24 minutes of clips from CNBC's Saturday broadcast.
James Risen broke the NSA warrantless domestic spying story for the New York Times. He also has a new book out, State of War: The Secret History of the CIA And The Bush Administration. Risen is known to have sources within various intelligence agencies and has recieved information from several NSA whistleblowers. One of those whistleblowers, Russell Tice, recently testified before congress that NSA domestic surveillance programs may be much more widespread than the "limited" program that the Bush Administration has admitted. Tice has said that some programs could be monitoring "millions of Americans".
Robert O'Harrow, Jr. is an award-winning reporter for the Washingon Post with an expertise data mining and privacy issues. His recent book, No Place to Hide: Behind the Scenes of Our Emerging Surveillance Society, describes "a surveillance society that's less centralized and more a joint public/private venture".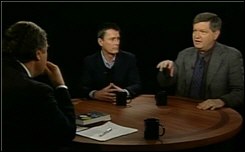 Together, Risen and O'Harrow paint a picture of an enormous partnership between U.S. intelligence agencies and private data collection firms. Spying agencies like the NSA can leverage its' massive computing power to mine data collected by these private firms. The result is a mind-boggling domestic surveillance capability with access to nearly any information imaginable. Phone calls, email, video as well as financial, criminal and other personal records can all be searched at the same time. The NSA's powerful computers can mine the data to find otherwise imperceptible links for profiling groups and individuals.
Russert calls it a "sobering" discussion. The interview only scratches the surface of how extensive the scope of Big Brother's monitoring of Americans may be. The surveillance programs are a dramatic departure from what the public has come to believe. It's easy to see why the Bush Administration has avoided legislation and oversight.
It's quite possible that the American people would not stand for Bush's spying policies if they had a sense of the true nature of the government's surveillance.
UPDATE 5/8/06: Luke has now posted a text transcript of this Russert/Risen/O'Harrow interview.