Did Scooter Libby Attempt to Coach Miller's Testimony?
Bloggers Still Critical of Miller and New York Times Reporting
Guest blogged by David Edwards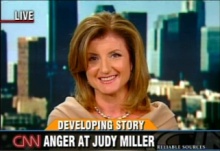 Arianna Huffington supplements her Huffington Post analysis of Judy Miller's and The New York Times' latest account of Miller's role in Traitorgate by appearing on CNN's Reliable Sources this morning.
In her article and later on CNN, Huffington identifies the biggest fault in Miller's account:

Now that I have spent a few hours absorbing this latest installment in the ongoing soap opera "Desperate Editors," I can safely say that not since Geraldo cracked open Al Capone's vault has there been a bigger anticlimax or a bigger sham. After all, the question everybody has been asking is: who was the source who leaked Valerie Plame's identity to Judy Miller?
And the answer? She can't remember.
Given the "gee-whiz, it all just sort of, like, happened, and I don't know when or why or where or who..." tone of her mea no culpa , maybe Judy is vying for a role on MTV's "Laguna Beach."
Which is just as well, because if these two articles have revealed anything at all, it's that Judy Miller is no journalist.
CNN Reliable Sources:
Video in Windows Media format...
Streaming Video in Real Media format...
Did Libby Attempt to Coach Miller?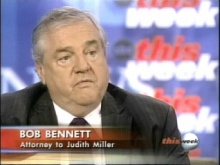 Talk Left focuses on a statement by Miller's lawyer, Bob Bennett, made this morning on ABC's this week that further implicates Libby in attempting to influence Miller's testimony. Hunter at Daily Kos concludes that "Libby is in deep, deep trouble here."
AP quotes Bennett from his appearance on ABC:

One of Miller's lawyers, Robert Bennett, was asked Sunday whether he thought Libby's letter was an attempt to steer her prospective testimony.
"I wouldn't say the answer to that is yes, but it was very troubling," Bennett said on ABC's "This Week."
"Our reaction when we got that letter, both Judy's and mine, is that was a very stupid thing to put in a letter because it just complicated the situation," Bennett said.
"It was a very foolish thing to put in a letter, as evidenced by the fact that you're highlighting it here," Bennett said. "It was a close call and she was troubled by it; no question about it."
ABC This Week:
Video in Windows Media format...
Streaming Video in Real Media format...
Blogs Critical of Times and Miller
The Times piece raises more questions than answers for ReddHedd at firedolake. Jane Hamsher also speculates that Miller may have cut another deal with Fitzgerald as the first one had become inoperative.
The Booman Tribune concludes: "Neither the Times nor Judith Miller emerge from this article looking at all favorable" and agrees that the Times articles provide more questions than answers. David Corn makes a solid case that the Times coverage is still seriously lacking, "They leave the impression that we're still not getting all the news that ought to be fit to print."
It occurs to Digby that Fitzgerald would have needed to consider the bogus WMD claims by Libby and others. Think Progress notices that Secretary Rice admits cooperating with the investigation on this morning's Fox News Sunday.
Atrios levels a flurry of criticism at Judy and the Times. Jay Rosen provides an excellent report of key moments and related links.