Bush on Nuclear Iran, Hersh Article, War Protestors, Plame Case
Guest blogged by David Edwards of Veredictum.com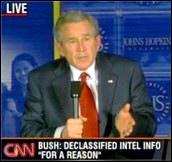 Video in Streaming Flash format...
Video in Windows Media format...
Audio in MP3 format...
Today after giving another Iraq/War-on-Terror PR speech at Johns Hopkins International Studies School, President Bush took questions from students in the audience. When compared with recent Q&A sessions, the President appeared to be relaxed to the point of laughing off the some of the tougher questions.
Bush may have offered a little bit more information about his role in using the National Intelligence Estimate (NIE) for political retribution. He was asked how future intelligence employees could trust the Executive Office in light of the Plame Wilson case. Bush responded that he had declassified the NIE "for a reason" but refused to say much more.
This video has about 8 minutes of clips from The President's Q&A session.




( 21 so far... )