Guest Blogged by John Gideon of VotersUnite.org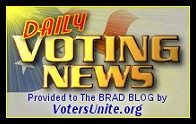 The following is one of the stunning revelations in our 'Featured' article today.
"Many thousands of ballots that should be in the ballot boxes in your possession don't exist," attorney Bill Risner writes in the 3-page letter to Donald E. Conrad, Chief Counsel of the Criminal Division at the office of state Attorney General Terry Goddard. The alarming allegations come as the second week of an extraordinary hand-count of paper ballots, part of a criminal investigation into the '06 election, continued in Phoenix on Monday."
...
**"Daily Voting News" is meant as a comprehensive listing of reports each day concerning issues related to election and voting news around the country regardless of quality or political slant. Therefore, items listed in "Daily Voting News" may not reflect the opinions of VotersUnite.Org or BradBlog.Com**