In Case You Missed 'Em... Our Most Important Stories from the Last Week
Guest blogged by DES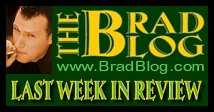 It's high summer and the movers and shakers got back to movin' and shakin' without delay after coming back from the 4th of July holiday week. Brought to you by our intrepid Guest Bloggers and the Travelin' Brad, the biggest stories this last week ranged all over, but our BIGGEST story bar-none was the victory of dogged citizen activists in their battle to dump disenfranchising DRE (basically, touch-screen) voting machines in their home county of Riverside, CA. Be sure to read the story of how unflagging dedication to election integrity and sheer stick-to-it-iveness can overcome bureaucratic stonewalling and stupidity...
In other election integrity news this last week, the big cajones award goes to the California judge who ordered a RE-VOTE after county election officials destroyed the evidence from a 2004 race, depriving plaintiffs of a recount... PFAW continues their disingenuous campaign to keep those dangerous DREs in every county in the nation... the notorious Election Assistance Commission finally un-gagged researcher Tova Wang, author of a study proving the "myth" part of the Republican Myth of Voter Fraud... Rep. Dennis Kucinich dropped his support of Holt's HR811.... plus the other biggie story of the week: the stunning revelation of discrepancies in the code ES&S submitted to the state of California --- which could have national implications!
In other big stories this last week, BRAD BLOG DC correspondent Margie Burns analyzed the politics of leaks and pardons by presidents, past and current... the Guts of Michael Chertoff told him bad things might happen to the U.S.... revelations of Vote Caging by Republicans in Florida in 2004 (aren't you shocked?) and the release of the escort service client phone list of the "DC Madam", already netting one Republican representative senator (aren't you shocked?) in just the first 24 hours...
From tireless Guest Blogger Alan Breslauer, we have multo must-see video: Robert F. Kennedy, Jr.'s inspiring speech during the Live Earth concerts, NYC firefighters exposing Giuliani's actions in the aftermath of 9/11, and the er, unusual eavesdropping of a conversation between Hillary Clinton and John Edwards, and a very entertaining smack-down delivered by RFK, Jr. to the hapless Glenn Beck...Plus a revealing debate between Wolf Blitzer and Michael Moore over his newest film, "Sicko"!
Check out the newest pro-Net Neutrality video released this last week, and sign up to tell the FCC to PROTECT YOUR INTERNET from corporate raiders! They aren't playing fair, kids --- they never do --- and it's up to us to save it --- the deadline is July 17th, so spread the word!
Even more awaits after the jump...
SUNDAY, JULY 8th...
Paper: Internal Memos Contradict Florida Bush Team's Statements Concerning 'Voting Caging' Prior to '04 Election
Docs Based on Pre-Election Meetings in Duvall County Reveal Issue Was Repeatedly Discussed Despite Denials by Local Bush/Cheney '04 Election Chairman
DoJ Continues to Review U.S. Senator's Demand for a Full Investigation...
Blogged by Brad from St. Louis...

VIDEO: RFK Jr. Speaks Truth To Power In Fantabulous 'Live Earth' Speech
Slams Politicos, Disinfo Media for Ignoring Global Warming, Environmental Issues...
Guest Blogged by Alan Breslauer
MONDAY, JULY 9th...
Calling for Paper Ballots, Kucinich Reiterates Dropped Support of Holt Election Reform Bill
As a New Effort is Mounted by Election Integrity Advocates to Contact Congress Members
Concerning the Drive to Ban DRE Touch-Screen Voting Systems Once and For All...
Blogged by Brad Friedman from St. Louis...

Fingerprints of Libby and Cheney on the Marc Rich Pardon
Who Benefited the Most? Did Cheney Facilitate Libby? And Whatever Came of the 'Outrage'?...
Guest Blogged by BRAD BLOG D.C. Correspondent Margie Burns

'Daily Voting News' For July 8 and 9, 2007
Guest Blogged by John Gideon of VotersUnite.org

Another election official has jumped into the revolving door and joined the vendors. In this case ex-Commissioner and Chairman of the EAC Paul DeGregorio has become COO of an Internet voting software company, Everyone Counts...

Michael Moore Rips Wolf Blitzer, CNN, Long Overdue New One
Bravo...
TUESDAY, JULY 10th...
WEDNESDAY, JULY 11th...
Judge's Ruling Yet to Come; Will Libby Be On Probation?
Fred Fielding, Counsel to Richard M. Nixon and George W. Bush, Greenlights Probation
Guest blogged from DC by Margie Burns

People for the American Way (PFAW) Continues Dishonest Lobbying Campaign for Holt Election Bill
Take Action to Counter Their Unapologetically Deceptive, Anti-Democracy Efforts to Misinform Nancy Pelosi!
Blogged by Brad Friedman from St. Louis...
THURSDAY, JULY 12th...
VIDEO MASHUP: STOP SEAN HANNITY'S LIES WITH BOYCOTT
Guest Blogged by Alan Breslauer

VIDEO: Fire Fighters Assoc. President Slams Rudy '9/11 Legend' On Hardball
Says Former NYC Mayor More Concerned About Saving Gold Than Missing Firemen...
Guest Blogged by Alan Breslauer

EAC Ungags Tova Wang
Expert Hired to Write Voter Fraud Study Now Allowed to Speak About It, Commission's Burying, Altering of Her Report...
Blogged by John Gideon of VotersUnite.org

BREAKING: California Judge To Rule County Must Rehold Election After Diebold Touch-Screen Election Records Destroyed by County Officials
Judge to Nullify Election Results of 2004 Alameda County Ballot Measure, According to Tentative Ruling
County Had Refused to Allow Public Examination of Electronic Votes and Audit Logs on Diebold Voting Systems After 'Numerous Machine Malfunctions' in Medical Marijuana Election...
FRIDAY, JULY 13th...