In Case You Missed 'Em... Our Most Important Stories from the Last Week
Guest blogged by DES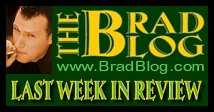 No time for detail today due to travel, but be sure to review the highlights of stories from the last week that you won't see anywhere else, including the stellar contributions of our most excellent guest bloggers, who are holding down the fort while Brad is on the road...
SUNDAY, JUNE 24th...
You Don't Know Dick
The Post has a must-read series on the Veep Who Would Be King
Guest blogged by Joseph Cannon

VIDEO: Romney Flip Flops On Pardons
And A Video Flashback To Bush Stating That Scooter Libby's Conviction Must Be Respected
Guest Blogged by Alan Breslauer
MONDAY, JUNE 25th...
TUESDAY, JUNE 26th...
Michelle Malkin tries to foment war with Iran, Gets the Story Wrong Again
Right-wing propagandist misrepresents photographs of police violence
Guest Blogged by Joseph Cannon

Impeach Cheney
Even the Republicans are sick of this guy
Guest Blogged by Joseph Cannon

VIDEO: Infamous Tim Griffin Vote Caging/Crying Speech
TPM Muckraker Confirms Analysis of RNC 'Caging Lists' as Illegally Targetting Minory Voters...
Guest Blogged by Alan Breslauer

Maryland Election Director Endorses Diebold, Appears on Their Brochure Testifying for Failed E-Voting Poll Books
Linda Lamone Allows Her Picture To Be Used In Diebold Sales Literature
Testifies Favorably for Equipment That Failed Spectacularly In Maryland Last September...

ES&S Relents In California, Finally Submits Voting System Source Code to SoS
Last Vendor to Hold Out from State's 'Top to Bottom Review' of Voting Equipment Coughs Up Source Code After SoS Bowen Demands Source Code Be Taken Out of Escrow...
Guest Blogged by John Gideon of VotersUnite.Org
WEDNESDAY, JUNE 27th...
BREAKING: CHENEY, WHITE HOUSE SUBPOENAED FOR WARRANTLESS DOMESTIC WIRE-TAP DOCUMENTS
Fight Over Access to Docs Could Lead to Constitutional Confrontation (and Impeachment?)...
UPDATE: Feingold Issues Statement, Says Subpeonas Have Bipartisan Support in Senate to Help End Stonewalling by White House Concerning 'Illegal Spying Program'...

RNC, Tim Griffin 'Vote Caging' Efforts Confirmed by Two Three Independent Reports
Blogosphere Finally Beginning to Get It --- as Even Greg Palast Critic Shores up Palast's Reporting --- While MSM Remain Mostly Silent...

Congressmen Describe Cheney Explanation for Failing to Comply With Exec Order on Classified Docs as 'Absurd,' 'Highly Dubious,' 'Mockery of Law'
Waxman, Conyers, and Clay Issue Statement Calling on Response, Action from DoJ, Gonzales...
THURSDAY, JUNE 28th...
EXCLUSIVE: ES&S Letter Agreeing to Send Voting System Source Code to CA SoS Begs More Questions Than it Answers
Arrogant Letter Agrees to Comply With Law by Submitting Source Code for Review, But Mysteriously Insists That SoS Bowen Revoke Demand to Release Version of Source Code Held by Escrow Firm...
Guest Blogged by John Gideon of VotersUnite.Org

White House Snubs Congressional Subpoenas in Attorney Purge Matter, Claims Executive Privilege
What happens next?
Will a U.S. Attorney close to Gonzales convene a grand jury?
Guest Blogged by Joseph Cannon
FRIDAY, JUNE 29th...
Rightwing Extremist, Nutcase John Gibson of Fox 'News,' Slams 'Leftist Blog' RAW STORY
News Site 'Traffics in Hating both Bush and Cheney,' Read by 'Not All That Many People,' According to Imaginary News Man...
Leftist blog on the Internet that traffics in hating both Bush and Cheney
SATURDAY, JUNE 30th...
If It's Friday, It Must Be Time to Resign
Another 'Loyal Bushie' Announces Departure From Bush's Justice Department
Guest blogged by DES