In Case You Missed 'Em.... A Fond Look Back at the Week That Was
Guest blogged by DES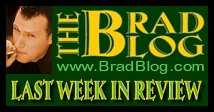 We started out the long holiday weekend last week with a delicious rant from HBO's Real Time with Bill Maher --- so sad to see him go on hiatus again, since the news never takes a holiday...
We found out that the Chairman of the Joint Chiefs of Staff doesn't really keep track of pesky details like casualty numbers for our troops. Greg Palast followed up his bombshell post from the week prior with a snarky rebuttal to critics of his evidence regarding electoral machinations by RNC-opposition-researcher-Vote-"Cager"-turned-Rove-aide-turned-partisan-U.S.-Attorney, the newly-resigned Tim Griffin. The revelation on late Thursday night that House Judiciary Chairman John Conyers (D-MI) is examining Palast's evidence should help to quell the quaking boots, who appear to fear there is no "there" there...
Obviously, The BRAD BLOG believes there is plenty of "there", but no need to take our word for it --- even the DNC (here and here) and Slate finally noticed "vote-caging" just this week, and the Department of Justice is looking into allegations of illegal partisan hiring practices at the DoJ, too!
Prosecutor Patrick Fitzgerald confirmed, again, in a new court filing that Valerie Plame was indeed covert at the time of her unprecedented outing, and he directly implicated VP Dick Cheney in the scandal. Did the rightwingnuts admit they were wrong? Of course not! Video Blogger Alan Breslauer gave us a personal montage of New Orleans, a living monument to preventable outcomes of incompetence --- still destroyed, still struggling nearly two years later. Maybe Karl Rove can drop in with some of that butter, root beer, and toilet paper ...
Read on and be prepared for what the cat drags in this coming week...
SUNDAY, MAY 27th...
BILL MAHER 'NEW RULES' VIDEO: 'While Other Presidents Have Sucked in Their Own Way, Bush is Like a Smorgasbord of Suck'
'Combines the Corruption of Warren G. Harding, the War Mongering of James Polk and the Abuse of Power of Richard Nixon'...
'But You Don't Get to Become the Worst President Ever Without a Little Help from the Other Side'...
MONDAY, MAY 28th...
'GREG PALAST IS DANGEROUS'
*** Investigative Journalist Greg Palast replies to Internet commentary following his Exclusive Report filed here at The BRAD BLOG on Monica Goodling's testimony to the U.S. House Judiciary Committee last week, including her admissions concerning "Vote Caging" by former Karl Rove aide, now Arkansas U.S. Attorney, Tim Griffin.

Chairman of Joint Chiefs Has No Idea How Many U.S. Troops Killed in Iraq
Even on Memorial Day...
TUESDAY, MAY 29th...
VIDEO: How U.S. Presidents Past & Present Resist Calls For Withdrawal
Gosh, That Sounds Familiar...
Guest Blogged by Alan Breslauer

Cheney Directly Implicated by Fitzgerald in CIA Leak Case
Prosecutor Suggests Strong Evidence that VP Oversaw Libby's Cover Up of Outing of CIA Operative Plame-Wilson
Covert Status Confirmed (Yet Again)...
WEDNESDAY, MAY 30th...
EXCLUSIVE BRAD BLOG VIDEO: New Orleans 20 Months After Katrina
Guest Blogged by Alan Breslauer

Rightwing Mainstream Media, Blogosphere Refuse to Retract Assertions That 'Plame was Not Covert'
And they say there's not a vast rightwing conspiracy?

They had no basis at the time for making such statements. But, as they so often do, they made them anyway, because those statements helped to defend the Leader and bolster their political agenda. Most of all, they know that their readers will trust what they say even when those statements are demonstrably false.
...
These falsehoods are never acknowledged, let alone retracted, because they are a critical part of the role they play.

LETTER: DoJ Inspector General Tells Congress of Expanding Probe in DoJ Political Hiring Practices
THURSDAY, MAY 31st...
EXCLUSIVE PHOTOS: Karl Rove Goes Memorial Day Shopping, Poses for Photo With Anti-War Activist, Gets Told About 'Regime Change Here at Home'
Velvet Revolution Co-Founder Snaps Pix With Rove, Shares a Piece of His Mind
Shopping List for Bush's Right-Hand Man: 'Toilet Paper, Barq's Root Beer, Land o' Lakes Butter'

BREAKING EXCLUSIVE: Resignation of Former Rove Aide, Arkansas US Attorney Griffin, Came After Conyers Requested 'Vote Caging' Evidence from BBC
House Judiciary Chair Tells Palast in Interview: 'We're Not Through With Griffin by Any Means'
Indicates Caging Operation Could Not Have Been Done Without Knowledge of Rove, According to Palast Team...
FRIDAY, JUNE 1st...