Guest blogged by David Edwards of Veredictum.com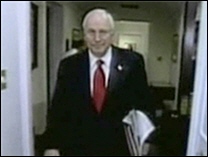 Video in Streaming Flash format...
Video in Windows Media format...
The Special Prosecutor investigating the outing of CIA officer, Valerie Plame-Wilson, has indicated in a court filing that Vice President Cheney is likely to be a witness in the Libby trial.
The New York Times quotes Fitzgerald writing, "Contrary to defendant's assertion, the government has not represented that it does not intend to call the vice president as a witness at trial." (see: Muckraker). Cheney's testimony is expected to reflect the state of mind in the Office of the Vice President during the organized attack on Joe Wilson's credibility and the outing of Plame-Wilson. The testimony will likely show that Libby had motive to leak selective information to reporters to smear Wilson and bolster the Administration's justification for war on Iraq.
Fingering Cheney as a possible witness may lead to questions about a conspiracy secret illegal scheme planned and executed within the Vice President's office.