Guest blogged by David Edwards of Veredictum.com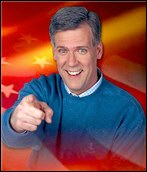 Video in Streaming Flash format...
Video in Windows Media format...
Audio in MP3 format...
It looks like the conservative Fox News host, Tony Snow, will be the new White House Press Secretary. Snow is probably one of the more mature right-wing pundits. He has often been very critical of President Bush. In November of 2005 after Republicans lost Virginia's Governor race, Snow wrote, "His wavering conservatism has become an active concern among Republicans, who wish he would stop cowering under the bed and start fighting back... The newly passive George Bush has become something of an embarrassment."
It's an interesting PR move by the White House. Fox News predicts that Snow will command more respect from the White House Press Corps. Will the reporters go easier on Snow? NBC's David Gregory says that he will not change his aggressive style.
Here are a few more quotes from Snow (compiled by MSNBC):
"[President Bush has] lost control of the Federal Budget" - 03/17/2006

"No president has looked this impotent this long..." - 09/30/2005

"The English Language has become a minefield for the man. whose malaprops makes him the political heir not of Ronald Reagan but Norm Crosby... At one point last week, he stunned a friendly audience by barking out absurd and inappropriate words, like a soul tortured with Tourette's" - 08/25/2000

"The newly passive George Bush has become something of an embarrassment." - 11/11/2005
UPDATE FROM BRAD: Let's also not overlook Snow's mountain of irresponsible and inaccurate "reporting". A few examples here and then more here. Plus MediaMatters has some suggested questions for Tony's first snow job day.