Warren Beatty and Annette Bening crash Schwarzenegger rally
Guest blogged by David Edwards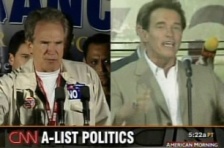 Over the weekend, Warren Beatty and his wife, Annette Bening, followed Gov. Schwarzenegger to several rallies. It was an attempt to bring attention to some negative aspects of the Governor's "reform" agenda.
Warren Beatty is troubled that the Governor will not debate anyone on the issues. Beatty says, "As near as I can tell, the broken system that he wants to change is called 'democracy'".
Since Schwarzenegger is not willing to debate anyone on his "reform" agenda, CNN put together a short virtual debate between Warren Beatty and the Governor.
Video in Windows Media format...
Video in QuickTime format...