John Conyers asks if 'Wheels Falling Off GOP?'
Guest blogged by David Edwards
The Washington Post is reporting that a no-bid contract awarded to Carnival Cruise lines is the first FEMA contract to garner wide scrutiny. The contract was negotiated to provide housing for displaced Katrina victims. Understandably, many hurricane victims are hesitant to accept housing on the water.

It's unclear how exactly how many displaced hurricane victims have accepted housing on the Carnival ships. Assuming that ships have 100% occupancy, FEMA would be paying more than twice the price of individually booked cruises.


To critics, the price is exorbitant. If the ships were at capacity, with 7,116 evacuees, for six months, the price per evacuee would total $1,275 a week, according to calculations by aides to Sen. Tom Coburn (R-Okla.). A seven-day western Caribbean cruise out of Galveston can be had for $599 a person --- and that would include entertainment and the cost of actually making the ship move.

"When the federal government would actually save millions of dollars by forgoing the status quo and actually sending evacuees on a luxurious six-month cruise it is time to rethink how we are conducting oversight. A short-term temporary solution has turned into a long-term, grossly overpriced sweetheart deal for a cruise line," said Coburn and Sen. Barack Obama (D-Ill.) in a joint statement yesterday calling for a chief financial officer to oversee Katrina spending.

CNN reported on the Carnival Cruise contract this morning. View the report in Streaming Real Media or Windows Media.

If you missed Michael Brown's "testimony of shame" yesterday, Crooks and Liars has a clip. Think Progress has determined that Brown lied under oath while smearing Governor Blanco.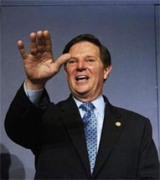 The FEMA/Brownie scandals seem to be business-as-usual for the beleaguered president and Republican leadership. John Conyers wonders if the Wheels are Falling Off the GOP. Reports that DeLay may be indicted soon (AP, Americablog, Austin paper) along with recent revelations that Jack Abramoff may be involved in a gangland style murder must be troubling for the White House.
In addition, Patrick Fitzgerald's investigation is winding down and Administration insiders claim that the White House is sweating. Dan Froomkin of the Washington Post reports:

And it turns out that the Valerie Plame case is indeed hanging over the White House like a pall.
VandeHei and Baker write: "The federal CIA leak investigation, which has forced Deputy White House Chief of Staff Karl Rove and others to testify before a grand jury, seemed to distract officials and left a general feeling of unease, two aides said. Aides were calling reporters to find out what was happening with Rove and the investigation. 'Nobody knows what's going to happen with the probe,' one senior aide said."