Guest Blogged by Ellen Theisen of VotersUnite.org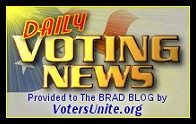 John Gideon wanted the stewards of democracy to have a summary of each day's news concerning a broad range of issues regarding the integrity of elections in the U.S. and elsewhere, so he created and published the free newsletter, the 'Daily Voting News' [DVN].
Despite our recent loss of John, the value and need for DVN – his creation – remains unchanged. A working group has been established to determine the best way to continue this service. More information about the effort and opportunities for you to contribute to DVN will be coming.
Until a stable, workable plan is implemented, a few us will produce DVN using John's example as a guide. The first order of business is to produce a DVN covering the news of this latest week. Please bear with us as we assemble both the latest news and the new DVN team at VotersUnite.Org.
I'd like to thank John Washburn and Dave Klein for stepping in quickly to help re-instate DVN in John's absence.
You can assist by sending suggestions and election-news stories to dvn-tips@VotersUnite.Org.