Morning Edition...
Guest Blogged by John Gideon of VotersUnite.org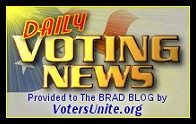 12 days until Election Day.
There is just too much news to fit into one DVN today so there will be one edition this morning (Pac time) and one at the normal time. We will be doing that through the election as the amount of news grows.
So far today a federal lawsuit has been filed in Pennsylvania seeking an earlier use of emergency paper ballots than is presently the dictate of the Secretary of State. The SoS has dictated that emergency ballots can only be used when all of the machines at a poll site are shut-down for some reason. The lawsuit hopes to loosen up that dictate to when 50% of the machines are shut-down for some reason.
While the West Virginia SoS has dictated that all of the states ES&S iVotronic touch-screen machines must be recalibrated we are still getting reports of vote switching.
**"Daily Voting News" is meant as a comprehensive listing of reports each day concerning issues related to election and voting news around the country regardless of quality or political slant. Therefore, items listed in "Daily Voting News" may not reflect the opinions of VotersUnite.Org or BradBlog.Com**