In Case You Missed 'Em.... A Quick Look Back at the Week That Was
Guest blogged by DES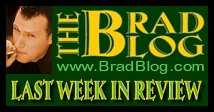 Posting a more streamlined review on this holiday weekend to take advantage of the beautiful weather (while also dealing with some technology issues yet to be sorted out, so no added graphics)... Below you'll find the most notable of notable stories posted last week to The BRAD BLOG.
From new revelations about the machinations of fox-in-the-henhouse Federal Elections Commission director Hans Von Spakovsky, to the great unraveling of the politicization of the Department of Justice and the bombshell testimony of former DoJ staffer Monica Goodling, to another exclusive report from Greg Palast expanding on the GOP 'Voter Fraud' scam, and the heroic efforts of individuals like Texas State Senator Mario Gallegos to hold the line at great personal cost. Plus a handful of interesting and funny bits in the media this last week, from a wide-ranging discussion between Brad and radio host Tony Trupiano, to the insightful season finale of Bill Maher's Real Time, for your listening and viewing pleasure.
And, oh yeah, more BRAD BLOG readers think Al Gore will run, than think he won't. But what do they know?
A quick review of the following will get you all caught up for whatever thunder will inevitably roll this coming week, as the cicadas crawl out of the ground after 17 years and the rest of us fire up the barbie and celebrate the unofficial start of summer...
SUNDAY, MAY 20th...
Sunday Night E-Voting Video of the Moment: NBC's HEROES Hacks an Election
Fictional Scenario, Based on Real World Science, Gives Primetime Viewers a Glance at Single Person Flipping an Entire Networked Electronic Election...
MONDAY, MAY 21st...
McClatchy: Bush Operative Von Spakovsky, Now Head of the FEC, Strong-Armed the EAC and the DoJ Voting Rights Unit on 'Voter Fraud' Issues While Serving as DoJ Appointee
Emails Suggest Partisan EAC Chair DeGregorio Fought off Influence Attempts, as Surprising as That May Seem...

JUST IN: House Judiciary Letter Offers 'Last Chance' to White House for Voluntary Cooperation in U.S. Attorney Investigation
Missive Sent Today to WH Attorney Fred Fielding from Conyers and Sánchez Warns of 'No Alternative But Compulsory Process' if Administration Continues Stonewall...

TUESDAY, MAY 22nd...
McClatchy Posts Von Spakovsky Emails
Then-DoJ Appointee in Civil Rights Unit, Now Recess-Appointed FEC Chair, Tried to Influence EAC Reports on 'Voter Fraud'...

Monica in the Morning
'Everything was Unraveling'...
WEDNESDAY, MAY 23rd...
Fired U.S. Attorney David Iglesias Invokes Watergate in LA Times Op-Ed
Speaks of DoJ Loyalty to Administration Rather Than Constitution...

Goodling Says Dep. Attorney General 'Incomplete or Inaccurate' in Regard to 'Vote Caging' Allegations About Karl Rove Aide
Says DAG Paul McNulty Withheld Knowledge of Tim Griffin's Involvement in Challenging Minority Voter Registration in 2004
Former Rove Aide Griffin Posted to U.S. Attorney Position in Arkansas...

A Voters' Hero in Texas...
'Daily Voting News' For May 23, 2007
Guest Blogged by John Gideon of VotersUnite.org

In an AP article we learn: "Against his doctor's advice, a stooped and feeble Sen. Mario Gallegos arrives at the state Capitol each day, just to make sure the Senate does not take up a bill that would require voters to produce ID at the polls. And when the rigors of the job start to wear on the Houston Democrat, whose body is rejecting a liver transplanted four months ago, he retires to a hospital-style bed — donated by a Republican colleague — in a room next to the Senate chamber. From there, he can be summoned at a moment's notice should his vote be needed. In a life-and-death drama playing out under the Capitol dome, Gallegos is putting his health at risk to block a measure that he and others say could prevent many minorities and the elderly from taking part in elections in Texas."

Illegally Blonde: Poor, Poor Monica Goodling
By Rebecca Abrahams, BRAD BLOG Guest Blogger and Freelance Network News Producer
THURSDAY, MAY 24th...
Palast Exclusive: The Goods on Goodling and the Keys to the Kingdom
And The No Longer 'Missing' Rove Emails Revealing the Cagey Scheme to Steal 2008...
*** Special to The BRAD BLOG by Greg Palast

REPUBLICAN IMMIGRATION BILL AMENDMENT TO REQUIRE DISENFRANCHISING PHOTO ID RESTRICTIONS AT POLLING PLACE!
Sen. McConnell's Provision Would Amend Help America Vote Act (HAVA) to Include Attempt to Keep Legally Registered Voters from Voting!
GOP Prepared to Stop at Nothing to Undermine Most Basic American Values...Such as Democracy...
FRIDAY, MAY 25th...
POLL: Will Al Gore Run in '08?

AUDIO - Brad on Peter B. Collins Today (with Guest Host Tony Trupiano)
Audio now available here
SATURDAY, MAY 26th...
BILL MAHER VIDEO - Must Watch Ron Paul Interview on HBO's Real Time