In Case You Missed 'Em.... Important Developments and Other Neat Stuff From the Past Seven Days
Guest Blogged by DES...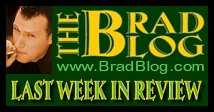 The Progressive blogosphere has a long-running joke "theory" regarding a holy grail of sorts - the one story or the one piece of evidence that would tie together all the scandals rolling out of the Bush Administration on a near-hourly basis. A sort of Unified Field Theory, only of corruption, political style.
This week, the U.S. Attorney Purge Scandal has mushroomed like a toxic Turdblossom cloud over the Executive Branch, tying together the electoral and campaign machinations of the Bush White House with the increasingly obvious, and now documented, politicization of the Department of Justice. Not only were U.S. Attorneys fired for not pursuing bogus "voter fraud" cases while other U.S. Attorneys retained for misusing their substantial power in politically motivated prosecutions, but considerable taxpayer resources have been devoted (and misused) towards trumping up claims of "epidemic" voter fraud where none exists: even the supposedly non-partisan U.S. Elections Assistance Commission (EAC) is in on it, covering up their own reports whenever the results don't jibe with the Bush Admin Master Plan.
Democratic advocacy organization People For The American Way (PFAW) is still inexplicably mis-stating (or purposely obfuscating) the true nature of the difference between paper trails vs. paper ballots in the Holt bill, HR 811 and has now been found to be deceptively using Brad's name, and that of The BRAD BLOG to do it. We will, of course, remain vigilant in keeping the pressure on PFAW and their friends to do the right thing, and several articles this week call on you to write pfaw@pfaw.org to demand exactly that.
The unsinkable Secretary of State for California, Debra Bowen, presented a knock-out editorial last week spelling out the steps ahead for truly verifiable elections. And sitting right next to the Secretary of State's op/ed was BRAD BLOG's own guest blogger Emily Levy's op/ed, literally and figuratively on the same page!
As Arlen Parsa exposed last week, the Iraq surge is (unsurprisingly) unraveling like the U.S. Attorney Purge cover-up, and the next few weeks of House Oversight and Reform Committee hearings (will Condi Rice show? will Gonzales?) should be nothing if not, er, interesting.
And as Michael Richardson detailed, voter registration issues in Florida are once again drawing questions, even as AP reported thousands of destroyed voter registration forms found in Atlanta.
Catch up on the key headlines you may have missed last week at The BRAD BLOG, so you'll be upped for this coming week's istallment of Incompetence and Corruption on Parade. If lastweek's developments were any indication, hold onto your hats, folks, it's becoming an increasingly bumpier and bumpier ride...
MONDAY, APRIL 9th...
Bush's 'Surge' Several Times Larger, More Expensive than Administration Claimed
Who Could Have Possibly Foreseen It?...
[LATE UPDATE] Pentagon Announces Today Another 15,000 Deployed Troops to be Extended to Maintain 'Surge'
Guest Blogged by Arlen Parsa

People for the American Way (PFAW) is Misleading Americans on the Holt Election Reform Bill and My Position on It
PFAW Website 'Democracy Campaign FAQ' Mischaracterizes my View on 'Paper Trails' and Dishonestly Represents a Host of Related Issues
AN OPEN LETTER DEMANDING RETRACTION AND CORRECTION ON THE FACTS ABOUT MY POSITION, ELECTION REFORM AND DANGEROUS DRE VOTING SYSTEMS...
TUESDAY, APRIL 10th...
CA SoS Bowen Strikes Back: Speaks up (Again) for the VOTERS!
Responds to Editorial by Former CA SoS's Newspaper, Criticism from CA Elections Officials Who Admit Their Voting Systems are Likely Neither Secure nor Accurate
ALSO: Op/Ed by BRAD BLOG/VelvetRevolution.us's Own Emily Levy Runs Along Side Bowen's in Same Paper...

House Democrat Asks For Answers on Bush 'Surge': 'When Does This End?'
Letter from Armed Services Committee Chair Skelton Sent Today to DefSec Gates...

U.S. Attorney Purge: And Now the GOP's Milwaukee 'Voter Fraud' Connection...

[A] surprise Seventh Circuit Court of Appeals decision ... issued an order immediately overturning a case brought by Biskupic against Georgia Thompson, an aide to Wisconsin's Democratic governor, Jim Doyle. Just in time for the '06 election we might add. (It didn't help; Doyle won anyway.)

The basis for the unusual appellate court decision was that the evidence used to convict Thompson on charges related to voting irregularities was virtually non-existent --- leading the senators to question what sort of pressure was brought on Biskupic to bring the charges in the first place.
WEDNESDAY, APRIL 11th...
U.S. ELECTION ASSISTANCE COMMISSION ALTERED FINAL REPORT ON 'VOTER FRAUD' FOR POLITICAL PURPOSES
NY Times Finds Original Bi-Partisan Draft Report, Buried by the EAC, Concluded Fears of 'Voter Fraud' Were Overblown
Altered, Politicized Report Follows Familiar White House Pattern, Brings Additional New Concerns About Continuing Status of EAC...
Guest Blogged by Arlen Parsa with additional reporting by Brad Friedman

EAC 'Voter Fraud' Report Boondoggle: NY Democrats Excoriate, Election Law Blogger Speaks Out, EAC Issues Statement Blaming Everyone But Themselves
The Mess We've Been Warning About for So Long, Concerning the EAC, Finally Makes it to Prime Time...

"I fear that we will be studying the EAC's failures for many years to understand how NOT to engage in meaningful election administration reform." - Rick Hasen, Election Law Blog

PFAW Silence Day 3: Still Misleading, Using My Name to Support Their Agenda, Refusing to Respond to Request for Correction, Cease and Desist
AUDIO FILES: Public Service Announcements Calling on Action Against PFAW, a Ban on DREs...
THURSDAY, APRIL 12th...
Insider Emails Reveal Florida's Voter Registration Database Was Plagued With Problems in 2006
New Computerized System was Rife with Bugs, Unexplained Errors and Party-Flipping According to Newly Revealed Documents...
Guest Blogged By Michael Richardson

"We are seeing instances of voters being changed to a different party when there was no user activity. This is our top priority now." - From recently obtained email concerning Florida's Voter Registration Database development in 2006.

AP: 75,000 Voter Registration Cards Found in Atlanta Trash Bin
Active Voters' Social Security Numbers Exposed
Guest blogged by DES...

'Daily Voting News' For April 12, Guest Blogged by John Gideon of VotersUnite.org

[T]he New York Times reported, "Five years after the Bush administration began a crackdown on voter fraud, the Justice Department has turned up virtually no evidence of any organized effort to skew federal elections, according to court records and interviews. Although Republican activists have repeatedly said fraud is so widespread that it has corrupted the political process and, possibly, cost the party election victories, about 120 people have been charged and 86 convicted as of last year." Why is it that the main-stream media can report this yet the supposedly bi-partisan Election Assistance Commission refuses to release a report that says the same thing?

Also late yesterday San Diego Co, CA announced that they had hired Michael Vu to be their assistant registrar of voters. Vu resigned under fire from his last job as the election director of Cuyahoga Co, OH where two of his employees were convicted of election fraud for pre-counting precincts in a scheme to cherry-pick precincts to be recounted with no problems.

Incredibly Subtle 'Freeway Blogs' of the Moment...
PLUS: The Freeway Blogger's 'Public Punditry' Contest Begins!

World Bank Employees Call for Wolfowitz to Step Down After Admitting Promotion of Romantically Involved Staffer
Bush Appointee Admits 'Mistake', White House Has 'Full Confidence', Despite First Ever Call for Resignation of a World Bank President
Staffer Received Pay Increase Double Amount Allowable by Rules...
FRIDAY, APRIL 13th...