Guest blogged by David Edwards of Veredictum.com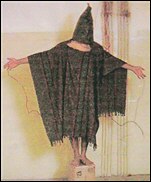 Video in Streaming Flash format...
Video in Windows Media format...
Audio in MP3 format...
Most Americans believe that John McCain's anti-torture bill clearly protects prisoners in U.S. custody from abuse. Most Americans also believe that the conditions for detainees have improved since the Abu Ghraib scandal and some initial problems at the U.S. detention center in Guantánamo Bay, Cuba.
Republican PR efforts to change American's perceptions of detainee treatment have been have been successful. The truth is that the Bush Administration has used the McCain anti-torture bill to codify a policy of torture that is now embedded in our legal system for perpetuity.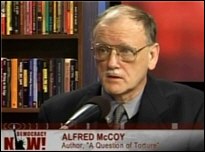 Professor Alfred McCoy is the author of a new book, "A Question of Torture", in which he gives a history of US torture from the CIA's development of torture techniques through the latest generation of systematic torture in the Bush Administration's "war on terror".
McCoy explains how the Bush Administration has purposefully crafted a strategy of torture. They have claimed executive powers and have had laws re-interpreted by Administration lawyers to give the government the power to continue the practice. Loopholes slipped into the McCain bill now ensure an enduring policy of torture.
Democracy Now interviewed Professor McCoy several weeks ago. We've taken about 9 minutes of clips frmo the 23 minute interview and provided them here. The entire interview and transcript are available from Democracy Now.
Due to the focus on detainees' human rights at Guantánamo, the U.S. is quietly expanding a detention center at Bagram Air Force Base in Afghanistan. In the past few years, the population has increased by 5 times. While there has been significant legal action over Gitmo, little has been done for the detainees at Bagram. Many say the conditions at Bagram are far worse than even during the height of the Abu Ghraib abuse.