Guest blogged by David Edwards of Veredictum.com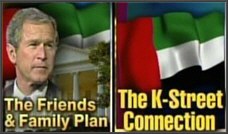 Video in Streaming Flash format...
Video in Windows Media format...
This video contains clips from CNN Lou Dobbs Tonight and MSNBC Countdown that focus on the financial concerns that are motivating President Bush to stand firm on the Dubai Ports takeover in the face of extreme public dissent, political pressure and possible national security concerns.
Lou Dobbs puts together financial connections between both Bush Presidents, the UAE, the Carlyle Group, Dubai Investment Fund, Neil Bush and John Snow.
The Bush appointment of a former Dubai Ports Executive, David Sanborn, as head of the U.S. Maritime Administration is also under scrutiny. In his new position, Sanborn now oversees all U.S. port operations. Dubai Ports has hired Bob Dole and two other Republican ex-senators to lobby Congress. The UAE paid over $750k to lobbying firms last year.
MSNBC Countdown provides analysis from David Sirotaan who is an expert on big money's influence on government:

This is not a scandal about one deal with one country. What's especially motivating the President in his threat to issue a veto is the fact that he knows that if Congress is allowed to override this [deal] a precedent is set.
...
America's trade policy, for two decades, has entirely been [controlled by] corporate-owned free trade. If this deal is allowed to be blocked it would set a precedent that security concerns are now going to be put into the trade policy. That is something that [Bush's] big corporate donor's do not want.
...
During NAFTA we saw labor and environmental standards thrown out the window. During the China PNTR deal we saw human rights standards thrown out the window. And now what we're seeing here is essentially security concerns thrown out the window. Basically allowing corporations to pursue the profit motive no matter what they want.