...and Lou Dobbs is Pissed
Guest blogged by David Edwards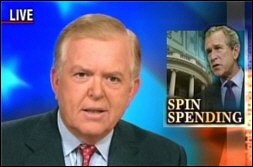 Video in Streaming Flash format...
The GAO has release a report that details how the Bush Administration has spent over $1.6 billion on "advertising campaigns" in the last 30 months alone.
The report was requested by Congressional Democrats about a year ago after press reports indicated that the Bush Administration was engaged in using "covert propaganda" on the American people.
The GAO report list the following among a long list of abuses:
Spending on contracts with public relations firms increased 128% between 2000 and 2004
More than $1.1 billion PR was spent by the Department of Defense. This included $35 to promote golf courses and $10k to promote recreational cruises.
$179 million for Air Force recruiting. In all, about $1 billion was spend by the DOD to in an attempt to bolster military recruiting
The Army spent $2.5 million to promote its' global war on terrorism.
$86 million to promote the failed Medicare prescription drug benefit
The RAW STORY has some comments from House Democrats:

"The government is spending over a billion dollars per year on PR and advertising," said Rep. Waxman. "Careful oversight of this spending is essential given the track record of the Bush Administration, which has used taxpayer dollars to fund covert propaganda within the United States."
"No amount of money will successfully sell the Bush Administration's failed policies, from the war in Iraq, to its disastrous energy policy, to its confusing Medicare prescription drug benefits," said Democratic Leader Pelosi. "The American people know the Bush Administration is on the wrong track and the White House PR machine won't change that fact."
"The extent of the Bush Administration's propaganda effort is unprecedented and disturbing," said Rep. Miller. "The fact is that after all the spin, the American people are stuck with high prescription drug prices, high gas prices, and high college costs. This report raises serious questions about this Administration's priorities for the country and I would hope that my colleagues on both sides of the aisle would agree that changes need to be made to reign in the President's propaganda machine."
"It is unbelievable that the Administration, on several occasions, has used limited taxpayer dollars to secretly promote initiatives such as No Child Left Behind, while underfunding money for our schools, books, technology, and after school programs," said Rep. Elijah E. Cummings.