Guest blogged by David Edwards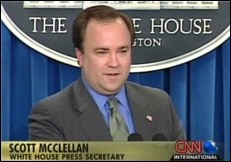 At the end of December 2005, there were 84 detainees on hunger strike at Guantanamo Bay. Today, there are 4 detainees on hunger strike. The Pentagon has confirmed that some detainees on hunger strike were force-fed through a feeding tube.
Now, several detainees are claiming that the force feeding procedure is intentionally cruel and amounts to torture. CNN is reporting that detainees say their arms and legs were strapped down as they were overfed through the feeding tube. Afterwards, detainees were left strapped to the chair where they were forced to urinate on themselves.
CBS News reports:

...officials warned detainees on Jan. 9 that hunger strikers would be strapped tightly to a restraint chair and force-fed with a thicker tube than had been used earlier.
He also said that detainees would no longer receive throat lozenges to ease the pain of the feeding tubes and that they would have their shoes, blankets and towels taken from them and confined to a room that was deliberately kept colder than normal if they refused food.
"I'm brave, but I'm not stupid," al-Odah is quoted as saying to explain his decision to quit the hunger strike. "On the chair, I'll be restrained and unable to resist. They are determined to torture me."
The Pentagon and the White House deny, deny, deny that torture is condoned or being used at Gitmo. (Scottie always takes an uncomfortably long pause right before he lies about vehemently denies something.)
Here's a video report from CNN that includes comments from a lawyer for 3 of the detainees and White House Press Secretary Scott McClellan's vehement denial of torture and abuse.

Video in Streaming Flash format...
Video in Windows Media format...