Guest blogged by David Edwards of Veredictum.com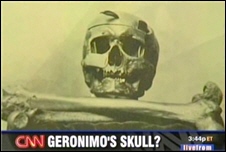 Video in Streaming Flash format...
Video in Windows Media format...
On Wednesday, May 24th at about 3:43 pm ET, CNN broadcast this odd little story. There seems to be no reference to it on CNN's website and we haven't seen any encore broadcasts since.
Here is the short version of the story... Geronimo's great grandson is making a plea to President Bush to facilitate the return of the remains of the Apache chief. The heir to Geronimo decided to make this request to Bush after a researcher found proof that Bush's great grandfather, Prescott Bush, had robbed Geronimo's grave. The skull, bones and other relics are now part of initiation traditions in the secret society of the Skull and Bones.
Read on for more of this story...
--- Click here for REST OF STORY!... ---




( 74 so far... )