Guest Blogged by Ellen Theisen of VotersUnite.org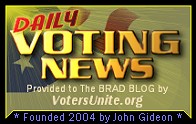 Co-Editors: Dave Klein and John Washburn
The DoJ's decision to strike down Georgia's voter verification process has sparked a lot of discussion. And by the way, the decision about Georgia's voter ID law has not been made yet.
Barbara Simons and Justin Moore wrote an excellent article about Internet voting and countered some of the misinformation in an earlier article written by the vendor who ran the Hawaii Neighborhood election.
In New York, some counties resist the 'pilot program' of using uncertified equipment in the elections this year; others decide to participate. Bo Lipari points out that it isn't a pilot program at all and recommends some steps the NY Board of Elections could take to turn it into one....
Published by VotersUnite.Org
Ellen Theisen, Director and Managing Editor
Dave Klein, Editor
John Washburn, Editor
Daily Voting News was founded on February 6, 2004 by John Gideon (1947-2009). To assist with Daily Voting News, please send links to news articles to dvn-tips. To donate, click here
"To encourage citizen ownership of transparent, participatory democracy." The Creekside Declaration. March 22, 2008
**Articles and commentary included in "Daily Voting News" do not necessarily reflect the opinions of the editors of Daily Voting News, VotersUnite.Org, or BradBlog.Com. Articles are selected for inclusion to inform subscribers' ability to draw their own conclusions based on noteworthy and credible news, research, legislation, and debate bearing on the integrity of elections.**