Guest Blogged by John Gideon of VotersUnite.org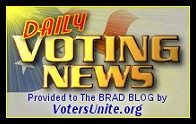 A large majority of today's news is, again, from Minnesota. The ballots are counted and lawsuits have been filed, now by both candidates. Its going to take some time for things to shake-out.
$1,850 for a ballot box? That's what Diebold/Premier charged Hillsborough Co Florida for 220 boxes to be used with their optical-scan machines. Meanwhile other counties in Florida paid as little as $145 per box from different vendors....
**"Daily Voting News" is meant as a comprehensive listing of reports each day concerning issues related to election and voting news around the country regardless of quality or political slant. Therefore, items listed in "Daily Voting News" may not reflect the opinions of VotersUnite.Org or BradBlog.Com**