Guest Blogged by John Gideon of VotersUnite.org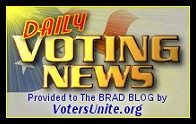 In New Jersey there is a lawsuit that has been going through the court process since 2004. The complaint asks the State Superior Court to block the use of nearly 8,000 Sequoia Advantage Direct Recording Electronic (DRE touch-screen) because they "cannot be relied upon to protect the fundamental right to vote." This lawsuit probably played some large part in legislation that required voting machines used in the state to be outfitted with a Voter-verifiable Paper Audit Trail (VVPAT).
Sequoia Voting Systems has not been able to meet the legislative deadlines, for a VVPAT printer, which have been moved a couple times. In fact only recently it was announced that the legislature may introduce new legislation to repeal the previous legislation. This move would probably have given more strength to the lawsuit.
Now, suddenly, the state has announced that they will require the Sequoia DREs being used in 18 counties to be refitted with VVPAT printers. It seems clear that this move by the Secretary of State is an attempt to make the lawsuit moot. The state will surely argue that because the DREs are refitted with printers there is no need to change to optical-scan technology.
One question that the state and Sequoia must answer though: Is there a printer in development or developed by Sequoia for use on the Advantage? If not, the state continues to be in violation of the law and it seems that they are being aided and abetted in that by Sequoia.
Also there are hints in the Houston media of problems in the vote count last Nov. Look for more on that over the next week or more....
**"Daily Voting News" is meant as a comprehensive listing of reports each day concerning issues related to election and voting news around the country regardless of quality or political slant. Therefore, items listed in "Daily Voting News" may not reflect the opinions of VotersUnite.Org or BradBlog.Com**