Morning Edition...
Guest Blogged by John Gideon of VotersUnite.org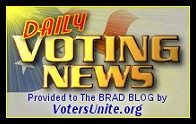 4 days until Election Day.
Georgia has, again, had problems with their voter registration database. This time there were between 500 and 1000 voters, depending on reports, who were left standing in line for two hours while they waited for Fulton Co. officials to reestablish connection with the state's computer system. This will be a huge problem on election day and may cause thousands of voters to give-up and go home. Let's hope not.
I never imagined that I would find myself agreeing with anything that John Fund had to say but in our 'Featured' article Fund wrote one graf that gives me hope for the guy. He said, "Independent, nonpartisan groups, as well as candidates and parties, should be authorized to appoint poll watchers to observe the election and the vote tabulation. All vendors who supply voting machines and computer software should be required to undergo investigation for financial security and integrity. Clear rules for identifying what constitutes a vote and procedures for contesting an election result must be developed by each state"....
**"Daily Voting News" is meant as a comprehensive listing of reports each day concerning issues related to election and voting news around the country regardless of quality or political slant. Therefore, items listed in "Daily Voting News" may not reflect the opinions of VotersUnite.Org or BradBlog.Com**