Guest blogged by David Edwards of Veredictum.com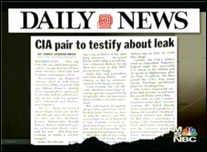 Video in Streaming Flash format...
Video in Windows Media format...
Yesterday, The New York Daily News reported that two top CIA officials discussed Valerie plame with Cheney's former Chief of Staff, Lewis "Scooter" Libby. If true, the CIA officials' testimony will show that Libby knew of Valerie Plame's status at the CIA at least a month prior to Robert Novak's column which first publicly exposed Valerie Plame's undercover status. The testimony of the two top CIA officials is expected to bolster the charge of perjury against Libby. Libby has previously testified that he first learned about Plame from a reporter.
MSNBC's Keith Olbermann takes notice that this story had been originally reported 2 months earlier by Jason Leopold, an internet journalist writing for Truthout. On May 13th, Leopold reported that Karl Rove, like Libby, had been served with an indictment for perjury and obstruction of justice. This report has not been confirmed by other media sources, triggering a fierce debate on the internet about the accuracy Leopold's report that Rove has been served with an indictment. Truthout editor, Marc Ash, is defending the accuracy of the report.