Guest blogged by David Edwards of Veredictum.com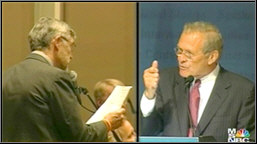 Video in Streaming Flash format...
Video in Windows Media format...
Ex-CIA Analyst Ray McGovern smackdowned of Secretary of Defense Rumsfeld during an event in Atlanta yesterday. During a Q&A period, McGovern demanded answers for a few of Rumsfeld's more specious claims.
Almost certainly, you have already seen or heard highlights of this clip. This version from MSNBC's Countdown contains the full 4 minute exchange between Rumsfeld and McGovern as well various other protesters being roughly handled and removed from the venue. Richard Wolffe of Newsweek provides analysis of the political fallout for Rumsfeld and the Bush Administration.
UPDATE: Text transcript here...
FURTHER UPDATE: Brad conducted an hourlong interview McGovern on The BRAD SHOW in June of 2005 just prior to his congressional testimony on the Downing Street Memos. It was a fascinating interview, if we may say so ourselves. Audio archive [MP3] or text transcript of the interview.