Guest blogged by David Edwards of Veredictum.com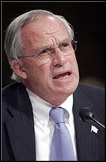 Video in Streaming Flash format...
Video in Windows Media format...
We doubt that any tears will be shed for this crook as he scurries away.
Which scandal got him? Abramoff? Cunningham?
Maybe he was busted by his own lie detector test...
UPDATE: CNN's John Roberts is suggesting that Goss may have been involved in part of the Cunningham scandal. Defense contractor and briber, Mitchell Wade, who plead guilty in the Cunningham case has told prosecutors that his associate Brent Wilkes provided "poker parties" with prostitutes at several D.C. hotels including the Watergate Hotel.
The number 3 official at the CIA under Goss is known to have attended the "poker parties". The CIA has REFUSED to DENY that Goss also attended one or more of the "poker parties".