Intel Sources Confirm White House Outing of Covert Operative Damaged National Security Interests!
Report Confirms RAW STORY Scoop from Months Ago, Includes Newest Video of Valerie Plame-Wilson
Guest blogged by David Edwards of Veredictum.com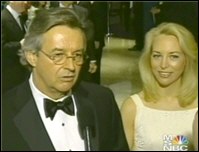 Video in Streaming Flash format...
Video in Windows Media format...
Shuster attended the White House Correspondent's Dinner. He was able to get a short interview with Joe Wilson. Republican operatives have renewed their baseless claim that Valerie Plame-Wilson's identity was not classified. For her part, Valerie Plame-Wilson stood silently by as her husband rejected the well used right-wing talking point.
More importantly, David Shuster reports that sources have told him how National Security was damaged when Valerie Plame-Wilson's identity was leaked by the White House. His intel sources say that she worked with gathering intelligence on Weapons of Mass Destruction. The outing of her name specifically damaged our national ability to collect intelligence on Iran's nuclear capabilities.
Says Shuster...
INTELLIGENCE SOURCES SAY VALERIE WILSON WAS PART OF AN OPERATION THREE YEARS AGO TRACKING THE PROLIFERATION OF NUCLEAR WEAPONS MATERIAL INTO IRAN. AND THE SOURCES ALLEGE THAT WHEN MRS. WILSON'S COVER WAS BLOWN, THE ADMINISTRATION'S ABILITY TO TRACK IRAN'S NUCLEAR AMBITIONS WAS DAMAGED AS WELL.
UPDATE FROM BRAD: It should be noted that RAW STORY's Larisa Alexandrovna broke the Plame/Iran/WMD connection several months ago. They've got the text transcript of Schuster's report now up as well.
Crooks & Liars has several other noteworthy details and thoughts...