Guest blogged by David Edwards of Veredictum.com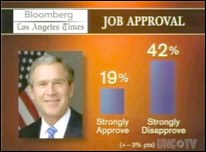 Video in Streaming Flash format...
Video in Windows Media format...
Audio in MP3 format...
On this week's edition of PBS's Washington Week, L.A. Times political reporter Doyle McManus provided analysis of Bush's record low poll numbers.
Doyle relates talking points that were being pushed on him by a Republican operative. Putting a delirious spin on the Bush's low ratings, the GOP says that "those polls were actually good news because the President's popularity has bottomed out. It has stabilized..."
While rolling her eyes, Washington Week moderator Gwen Ifill replies, "I'm dizzy from that spin, I think."