Guest blogged by David Edwards of Veredictum.com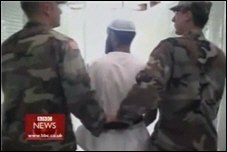 Video in Streaming Flash format...
Video in Windows Media format...
A newly released report from Amnesty International provides additional evidence of secret CIA "black site" prisons located in Africa, Asia and Europe. The report also details the CIA's practice of "rendering" prisoners to foreign countries to be tortured or detained.
In this video, BBC gives an overview of the new report. Anne Fitzgerald, senior Advisor for Amnesty, explains details of the CIA's rendition flights. The final clip contains an interview with Muhammad al-Assar who was detained in a CIA "black site" prison for 2 years. He was then "rendered" to Yemen where, under orders from the U.S., he was imprisoned for another year.