Matalin Blames Press over Cheney's PR Blunder
Guest blogged by David Edwards of Veredictum.com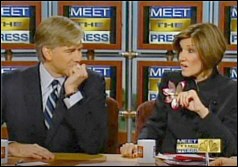 Video in Streaming Flash format...
Mary Matalin appeared on NBC Meet the Press (transcript) to defend Vice President Cheney's handling of the shooting scandal. She attacked NBC White House correspondent David Gregory and New York Times columnist Maureen Dowd for their attention to the discrepancies in Cheney's story.
Gregory:
Mary, ...the Vice President of the United States accidentally shot a man... and the Vice President's office doesn't feel an obligation to disclose that to the American people directly? You do it through a ranch owner in Texas? It just strikes me as odd.
Matalin: It strikes you as odd because you live in a parallel universe...
Gregory: ...If the Vice President did everything right by disclosing it the way he did, why did you do a big national interview this week?
Matalin: Because you went on a jihad, David. For four days you went on a jihad...
Gregory: That's an unfortunate use of that word, by the way.
Matalin: Oh OK... Were you saving up for that line?
So, Matalin slips in the inflammatory "jihad" remark and then accuses Gregory of "saving up for that line"?
I created a video compilation of the exchanges between Matalin, Gregory and Dowd that is posted at Crooks and Liars. If you haven't already seen it, watch the clip here in streaming flash format or download other video formats at Crooks and Liars.
Matalin's performance is a popular topic throughout the blogosphere: Arianna Huffington, firedoglake, Think Progress, AMERICAblog, James Wolcott, Hullabaloo, Talking Points Memo.