Eavesdropping Programs Monitoring 'Millions of Americans'
Guest blogged by David Edwards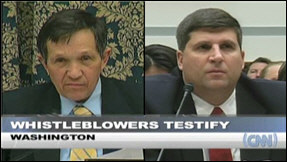 Video in Streaming Flash format...
On Tuesday, a former NSA employee, Russell Tice, testified before the House Government Reform Subcommittee on National Security, Emerging Threats and International Relations. Tice told the committee that he was concerned that undisclosed domestic spying programs were far more widespread than the recently exposed Bush/NSA warrantless wiretap program.
One or more still classified "Special Access" surveillance program may be monitoring the communications of "millions of Americans". While Tice could not share classified details of the program(s), he believes that the Constitution and FISA laws are being violated.
An article published by UPI has more information about the widespread domestic surveillance programs.
The hearings focused on protection for whistleblowers and a pattern of retaliations by the Bush Administration. This article from the Christian Science Monitor provides an excellent summary of testimony from whistleblowers appearing before the committee.